This article has been reproduced in a new format and may be missing content or contain faulty links. Contact zsrweb@wfu.edu to report an issue.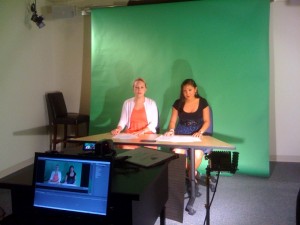 This morning our ITC filming studio had its inaugural use this morning. Our own production engineer Barry Davis worked with students to film in front of a green screen so that they can superimpose an image of Mexico City.
Many thanks to Barry for taking on the heavy lifting of this project and to making sure that our students get the support they need for their video projects. If you have always wanted to be filmed in a far away place without leaving ZSR, we now have the equipment and the expertise!