This article has been reproduced in a new format and may be missing content or contain faulty links. Contact zsrweb@wfu.edu to report an issue.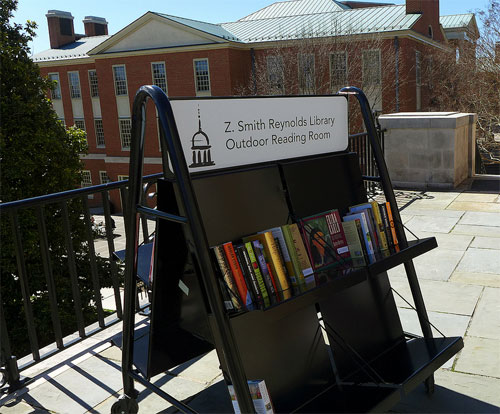 This spring, two outdoor reading "rooms" opened on campus. One is just outside the east (Starbucks) entrance to the library. The other is located on the patio near the south side of Reynolda Hall. ZSR Library sponsors the collections in both locations. Each reading room features a selection of books (mostly fiction) as well as current magazines and newspapers.
These rooms are part of a larger initiative whereby WFU commissioned the Biederman Group to enliven outdoor spaces on the Reynolda Campus. Biederman's most famous project is Bryant Park in New York City. In addition to the reading room, the Reynolda Campus quads now feature an outdoor piano, board games and other fun enhancements. Take a break this summer and relax in the sunshine with a good book or magazine.