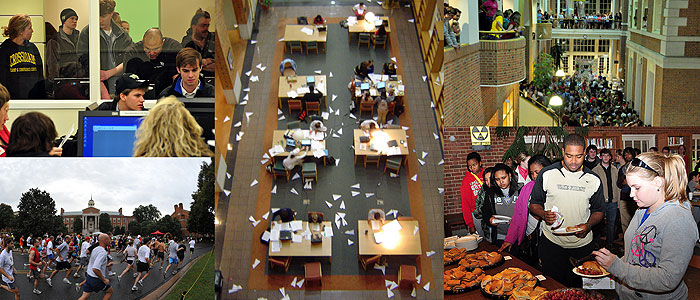 Library Ambassadors
About the Program
ZSR Library Ambassadors is a student program that aims to create a fun, professional experience for students. The program enables students to develop their identity within a group and gain diverse professional skills.
ZSR Ambassadors not only promote the library's mission and engage with fellow students, but they are ZSR advocates, reporting student needs to library administrators.
Meet the 2014-2015 ZSR Ambassadors
Koren Hardy

Junior from Dobson, North Carolina. Academic Interest: History.

I love the library and the services it provides the students. As a part of the Ambassadors, I want to become a part of the library that is so important in my life and the lives of all Wake Forest students.

Lauren Formica

Sophomore from Atlanta, GA. Academic Interest: Economics.

ZSR is an integral part of Wake Forest and I wanted to be part of new group of students that supports all that ZSR does.

Michael Cydylo

Sophomore from Trumbull, CT. Academic Interest: Spanish, pre-health track.

I want to help spark the change I wish to see in Wake Forest these next 4 years!

Natalie McKinney

Junior from Gastonia, NC. Academic Interest: Sociology.

The Ambassadors program provides an awesome opportunity to get involved with my peers and help create new traditions to make our time at Wake even more memorable!

Megan Franks

Senior from Kernersville, NC. Academic Interest: Psychology.

I absolutely love the library and I am excited to help it flourish!

Katie Cavanaugh

Junior from Cape Elizabeth, Maine (originally from Durham, NC). Academic Interest: Psychology and Spanish. Ambassadors Secretary.

I want students to become more aware of all the resources ZSR has to offer. There is so much more here than a Starbucks and a place to study!

Madison Cairo

Senior from Statesville, NC. Academic Interest: Biochemistry. Ambassadors Vice President.

I love the ZSR and wanted to help generate more events for the Wake Forest community.

Heidi Gall

Senior from Kingsport, TN. Academic Interest: English and Psychology. Ambassadors President.

The ZSR can be such a resource for students, but would benefit from increased communication between the student body and the staff. The program addresses that need, and I believe it will enhance not only the academic experience of Wake Forest students, but the social and cultural experiences as well.

Ania Kirollos

Senior from Saranac Lake, New York. Academic Interest: Psychology.

The library is a very important place for me when it comes to studying, which is why I want to get to know more about it, and help to improve it!

Justice Von Maur

Sophomore from Nassau, Bahamas. Academic Interest: History.

I am thrilled to be a ZSR Ambassador and look forward to contributing original and innovative ideas to Wake's most popular work space.

Isabella Basco

Junior from Memphis, Tennessee. Academic Interest: Communication and Spanish. Vice President pro-tem.

Overall, the ZSR is the center of our academic experience at WFU, and I wanted to be part of this amazing group of ambassadors!

Phillip Weinstein

Junior from Roslyn, NY. Academic Interest: Russian and Finance. President pro-tem.

I enjoy the ability to meet people of similar interests through the many open space study areas we have!

Jakala Williams

First Year from Lincolnton, NC. Academic Interest: Business.

I love ZSR because of the abundance of resources provided and I want to be apart of "Wake Forest's Google." Student: I have no idea where to start? What should I do? Ha. I can just ZSR it.

Jaime Fashimpaur

First Year from Lexington, NC. Academic Interest: Art History.

The ZSR is central to campus and the lives of students and I am so excited to have the chance to make a positive impact through the Ambassador Program!

Peyton Barr

Senior from Lexington, NC. Academic Interest: Security Studies, Russian.

I enjoy working in the center of academic resources and connecting people to what they need to accomplish their goals. You don't make the most of your Wake Forest experience without getting to know the ZSR Library, so I think every student should know the vast collection of materials at their disposal.

Neil Upadhyay

Junior from Palm Beach, FL. Academic Interest: Biology and Psychology.

I love the library because its a place where all students, regardless of academic pursuits or other outside interests, can get together and interact.

Emma Heulskamp

Junior from Indianapolis, IN. Academic Interest: History, Pre-Law.

I love ZSR and all it has to offer to Wake students as well as the Winston-Salem community. I'm so excited to have the opportunity to work with my fellow students in cultivating one of our campus' strongest assets!
Contact the Library Fellow with any questions.
If you have any questions, please contact us at 336-758-5475.