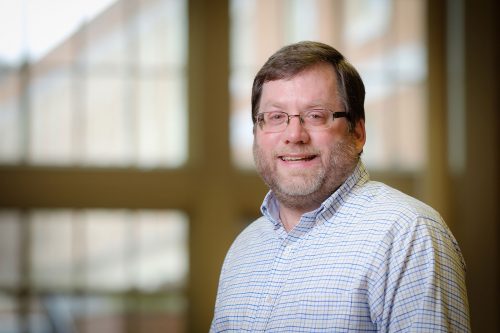 Name

Steve Kelley

Position

Head of Continuing Resources & Database Management

Email

Phone

Team

Liaison

Russian and East European Studies
Steve Kelley is the Head of Continuing Resources and Database Management and leads a section that includes three staff members. The section is responsible for serials cataloging, serials receipt, binding and marking materials, authority control, and catalog database maintenance. Steve earned his MLS from the University of North Carolina at Chapel Hill in 1998 and his BA (history, with a Russian minor) from Washington University in St. Louis in 1991. He began working at the Z. Smith Reynolds Library in 2002. Steve was a cataloging librarian at Ball State University from 1999 to 2002. Steve's professional achievements include being elected in 2013 to a three-year term as Vice President/President/Past President of NASIG (an international organization of librarians, publishers and vendors in the field of serials and continuing resources).
Publications
Kelley, Steve. (2016). The Smaller Library Staff's Perspective on BIBFRAME. Technicalities, 36(6), 8-11.
Kelley, Steve. (2016). Possible Major Changes Afoot in the World of RDA. Technicalities, 36(3), 14-17.
Kelley, Steve. (2015). Some Advice for Implementing RDA in Your Library. Technicalities, 35(6), 15-18.
Kelley, Steve. (2015). NASIG at 30: New Initiatives, New Directions. Serials Review, 41(3), 143-145.
Kelley, Steve. (2015). Serials: What's In a Name?. Technicalities, 35(3), 12-15.
Book Reviews
Kelley, Steve. (2016). FRBR, BEFORE AND AFTER: A LOOK AT OUR BIBLIOGRAPHIC MODELS. Karen Coyle. Technical Services Quarterly, 33(3), 345-347.
Kelley, Steve. (2015). Subject Access to Information: An Interdisciplinary Approach. Koraljka Golub. Technical Services Quarterly, 32(4), 461-463.
Committees & Offices Held
ALCTS Esther J. Piercy Award Jury, Member. (July 1, 2016 - Present).
ALCTS Continuing Resources Section: Nominating Committee, Member of Committee. (July 1, 2016 - Present).
ALCTS Cataloging and Metadata Management Section: Margaret Mann Citation Jury, Chair. (July 1, 2016 - Present).
NASIG Strategic Plan Implementation Task Force, Member of Task Force. (June 12, 2016 - Present).
NASIG Program Planning Committee, Chair. (June 12, 2016 - Present).
Note: Above is a selection of Steve's professional activity.
---