This is how the book looks in Giz's library. As you probably guess, the worn blue cover is our book.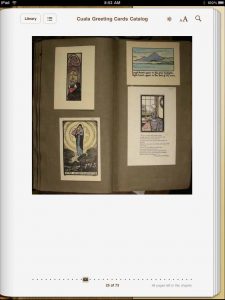 And this is an example of how one of the pages appears, almost like holding the original, just without the dust!
The conversion itself was rendered remarkably easy by the Calibre software. I simply imported the PDF file into my E-book library, clicked a dropdown menu, and started the conversion program. A few minutes of CPU grind later, and it spat out our E-book. I was then able to edit in any metadata I wished, including title, author, and the other necessities. For this test case, a title was sufficient, but we should be able to characterize our future projects very well, and have this information presented to everyone who reads our E-books upfront. All of this could have been done manually, since the .epub format is actually just a .zip file with a very specific file structure, and can be "built from scratch." However, a simple to use and free software that does this work for you, and does it better and much faster is definitely the way to go, in my humble opinion.
Please take a moment to download our E-book to a device of your choice, or if you are interested in just looking at the greeting cards, the original PDF is also available online at –link removed.
---
Related Information
Section Navigation
---