We returned to Shanghai for an alumni event at the Southern Belle. A small crowd of WFU alums were happy to gather and greet faculty and administrators from the campus. But the most dramatic event of the evening was when the Class of 2016 marched in together, having just had dinner together for the first time. Some had traveled from as far away as Japan to come to the Wake Forest events this weekend. What a happy, enthusiastic group of Demon Deacons. Meet the future: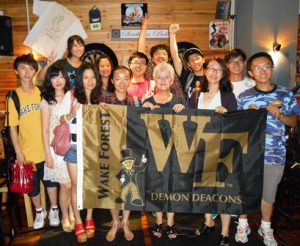 The whole day was a study in our new global society, and was encapsulated perfectly by the band that showed up to play at the Southern Belle at the end of our party. The best mandolin player this side of Tony Williamson appeared on stage, a young man from Inner Mongolia, studied by way of University of California – Berkeley, along with a good ole boy from North Carolina:
Coming up Saturday: The Main Event!
---
Related Information
Section Navigation
---