Many students came up to ask me about the strange library that was open 24 hours and had a Starbucks in it. Most students were interested in business or science, but this shy young woman spoke to Dr. Claudia Kairoff about her love for English literature. Her father told me that he wanted her to do whatever she loved and was so happy to see her gain in confidence by talking to Claudia.
The main event of the trip was the concert by Dr. Peter Kairoff. A special Steinway Concert Grand D piano had been delivered to the hall that morning and it was a perfect match for Peter, who had just been named a Steinway Artist prior to the trip. Even for those with little knowledge of classical music, it was a magical experience. You could watch his hands delight in the keyboard, which was described as "soft as butter." The master of Dulwich College Shanghai was so pleased that he purchased the grand piano on the spot, saying he could not bear to see it leave.
And finally, we had a traditional grand banquet in the Chinese style to thank our hosts for this wonderful experience. There were many greetings and speeches, and a wonderful tradition of ganbei where the hosts walk around the hall and give toasts to each table.
The whole day was a smash success and these two banquet ladies thoroughly enjoyed it (Dr. Ann Cunningham, Associate Professor of Education, and me).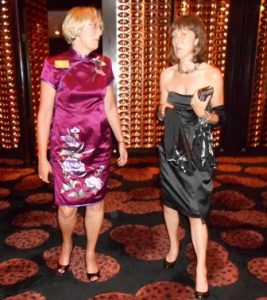 ---
Related Information
Section Navigation
---