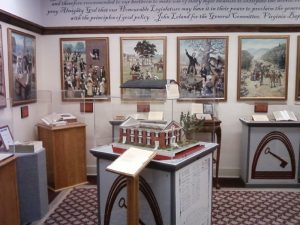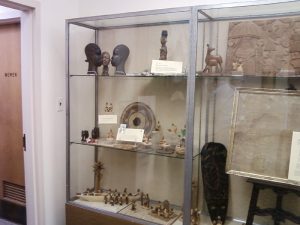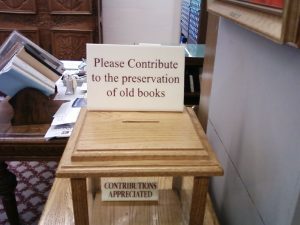 In addition to the ALABI conference, I attended the final session of the Baptist History and Heritage Society. This group always meets in conjunction with the ALABI group, either just before or after the ALABI conference. I had attended the BH&H conference last year to share the Biblical Recorder project information with them and they were quite excited about that resource! This year, there was a special reason for me to be at this meeting as well. Our very own NC Baptist Collection received the Davis C. Woolley award which is given in by the BH&HS in conjunction with ALABI! I was invited to receive the award at the luncheon that day, and was very proud to represent the WFU Special Collections and Archives Department. We received the award based on our efforts to use technology to make our materials accessible more widely (i.e. the Biblical Recorder project, our current partnering with Chapel Hill and Duke on the Religion in NC grant project) , the progress made on processing important Baptist collections and having finding aids available online (Wayne Oates, Bill Leonard, Warren Carr and Henlee Barnette specifically) and the amount of reference questions related to the Baptist collection that we answer (over 125 so far this year). It is so affirming to be recognized for the work that we have done and continue to do and know that it benefits researchers from all over.
*Side note* After I received the award, a gentleman came up to talk to me. He was a Wake alum ('64) and very excited to hear about our projects. He also mentioned that he took part in the MOOC that Kyle coordinated and enjoyed it very much! Small world…
The final day of the conference included a session on preservation of materials presented by a rep from Metal Edge and a conservationist from the Virginia State Library which was very informative and then a business meeting and "lightning round" where we each had a minute to tell what we are working on in out collections. There was talk of a possible Baptist Digital Library in the works to consolidate Baptist resources in one place, ongoing efforts to continue digitizing materials, hopes to digitize church records, and interest in future publishing opportunities. We covered a lot in two days and it was well worth the trip. If you would like information on anything I've mentioned here, I would be happy to share more with you.
---
Related Information
Section Navigation
---