Sources, Citations, & Cookies
Drop-in Research Workshops
At our drop-in research workshops, ZSR librarians are available to help with every aspect of your research project – from selecting a topic, to finding resources, to setting up Zotero, or citing tricky sources. Delicious spring bevvies and snacks will be available to help keep you fueled, and brain-stimulating activities will be on hand to keep you focused and relaxed!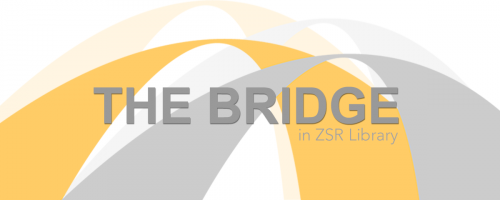 Got an issue with your laptop? Our friends from the Bridge will be on hand to assist with any computer or information technology issues you may be facing.
Spring 2016 Sessions
Sources, Citations, & Cookies will be held every Monday in April in the Mandelbaum Reading Room on the 4th floor of the Wilson wing from 2:00 – 6:00 pm:
Monday, April 4th, 2-6 pm
Monday, April 11th, 2-6 pm
Monday, April 18th, 2-6 pm
Monday, April 25th, 2-6 pm
Drop in! If you can't make any of these workshops, you can always request a Research Session with a research librarian at a day and time that is convenient for you.
---
Related Information
Section Navigation
---