ZSR Reopens for Pickup
Beginning Monday, June 8, faculty and staff who would like access to ZSR's collections can now request physical items through the library catalog. Requested items will be pulled from our collection and placed in the 24/7 Reading Room in ZSR for your pickup.
The 24/7 Reading Room is the room to the right off of the entry way in the Z. Smith Reynolds Library, directly across from the coffee shop.  The requested items will be placed in bags with the requestor's name on them.
To request items, search for the relevant title, or identify the item from our catalog. Be sure the "Show online results only" check box is unchecked. Click on the record representing a physical copy that is "available".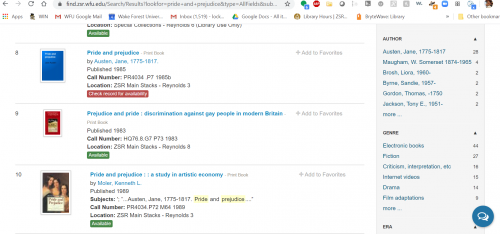 Click on the "available" button to reveal the drop down menu that includes "Hold for Pickup".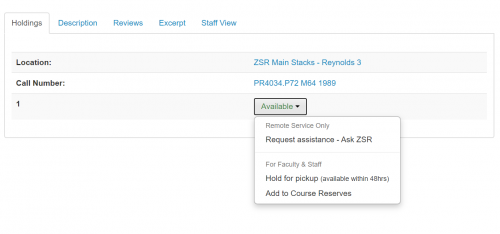 Repeat for any other items you'd like to pick up.
The books and DVDs will be pulled from the collection and checked out to you. We will email you when your items are available for pickup.
Faculty or staff members will also need to request access to campus by filling out the One-Time Access Request Form available through WFU's Our Way Forward website and await instructions from them on when you are allowed on campus and able to come into the library. Please note: even if you already have access to campus as an essential employee, you will also need to submit your request to gain access to ZSR through the One-Time Access Request Form.
Undergraduate and graduate student access to campus is still very limited, so access to ZSR's physical collections is likewise unavailable. For students, utilizing the "Show online results only" will continue to provide access to a great deal of online content.
Thank you for your patience as we work through ways to increase access to our collections while still prioritizing the safety of our staff, students, and faculty.