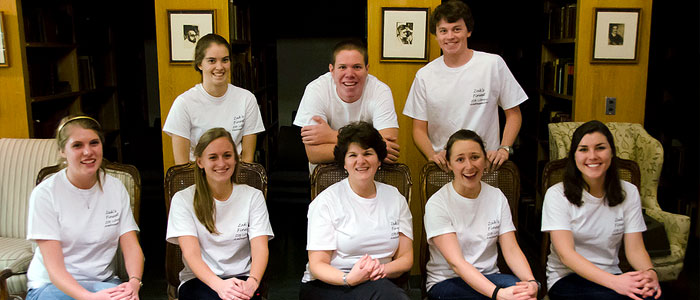 Library Ambassadors
About the Program
ZSR Library Ambassadors is a new student program that aims to create a fun, professional experience for students. The program enables students to develop their identity within a group and gain diverse professional skills.
ZSR Ambassadors will not only promote the library's mission and engage with fellow students, but they will be ZSR advocates, reporting student needs to library administrators.
We are seeking friendly, creative, enthusiastic, driven, aspiring leaders with varied interests that are committed to attending library events and meetings throughout the semester.
Application deadline is February 18, 2014.
Perks
Opportunity to make a difference and shape a new program
Gain professional skills in event planning, communications, leadership/management, multitasking, technology, ability to work in team or individually, etc.
Connect with higher administrators on campus
Have invaluable mentors
Work directly with ZSR Fellow, a recent graduate of WFU
Free food and shirts!
Access to exclusive study space during exams
Two information sessions will take place in Starbucks 203A:
Monday, Feb. 10: 10-11AM
Monday, Feb. 17: 5-6PM
First-years, sophomores, and juniors are strongly encouraged to attend and apply!
To apply, complete this brief application (remember: log in first with your WFU email).
Contact suffollf@wfu.edu with any questions.
If you have any questions, please contact us at 336-758-5475.