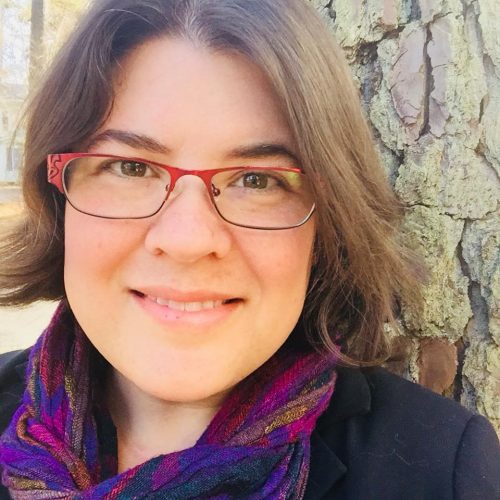 Heather Barnes
(She/her/hers)
Digital Curation Librarian
Heather Barnes is Digital Curation Librarian on the Digital Initiatives and Scholarly Communication (DISC) team at ZSR. Prior to joining ZSR, Heather was a Graduate Research Assistant at UNC Chapel Hill's School of Information and Library Science, where she received her PhD. She has worked with several digital library projects, including the Folkstreams documentary film preservation project, Duke University's Archive of Documentary Arts, and The Sun Magazine's digital conversion project.
Publications
Barnes, Heather. (2019). The Data-Driven Festival. Documentary Film Festivals Vol. 1 Changes, Challenges, Professional Perspectives. Palgrave Macmillan.
Barnes, Heather. (2019). Crowdfunding and Participatory Outreach in Archives. Participatory Archives: Theory and Practice. Facet Publishing.
Barnes, Heather. (2013). Screening the Past at the Museum of Modern Art. An Interview with Joshua Siegel, Associate Curator of Film at MoMA and Co-founding Curator of To Save and Project: The MoMA International Festival of Film Preservation. St Andrews Film Studies Publishing House.
Poole, Alex, Lee, Christopher, Barnes, Heather, & Murillo, Angela. (2013). Digital curation preparation: A survey of contributors to international professional, educational, and research venues. Education (ALISE), 7, 9.
Presentations
Barnes, Heather. (2014, July). Curation in the Wild: Developing Digital Preservation Assessment Models for Use in Community Documentary Projects. Archives Education Research Institute (AERI), Austin, TX.
Barnes, Heather. (2014, March). Preserving Film Festival Records. Society for Cinema and Media Studies (SCMS), Chicago, IL.
Barnes, Heather. (2012, July). Moving Image Preservation. Archives Education Research Institute (AERI), Los Angeles, CA.
Blog Posts
Here @ ZSR
Inside ZSR
---