Library Lecture Series
Events for Spring 2015
Thursday, January 22, 2015, 4:00 PM
ZSR Library Auditorium (Room 404, Reynolds Wing)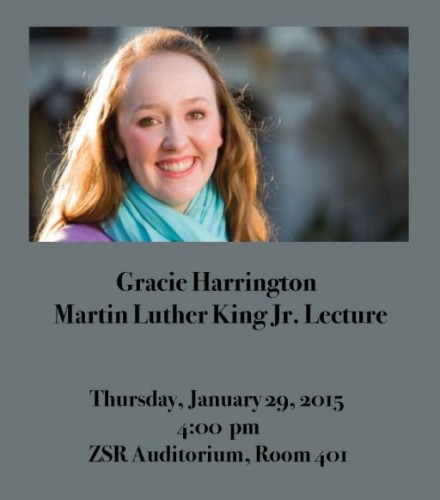 Thursday, January 29, 2015, 4:00 PM
ZSR Library Auditorium (Room 404, Reynolds Wing)
In her own words:
"Gracie Harrington's "Building the Dream" Lecture: My Journey" is the sharing of my story to self-acceptance and advocacy as a bisexual woman on the Wake Forest campus. The lecture will include personal stories, memories from my "coming out" experience, and the music I have made that has helped me to document my journey.
Monday, February 23, 2015, 4:00 PM
ZSR Room 401, Reynolds Wing
The event will begin with a brief introduction of the occasion, followed by a concert of Chopin's Nocturnes. Light refreshments will also be served.
Wednesday, February 25, 2015, 4:00 PM
ZSR Library Auditorium (Room 404, Reynolds Wing)
Dr. Otteson joined the Wake Forest University School of Business in the Fall of 2013 as Executive Director of the BB&T Center for the Study of Capitalism and Teaching Professor of Political Economy.
About the Series

The Library Lecture Series features discussions that support the current curriculum, addresses current issues and events, acknowledges and accentuates the current collection, and brings together the many diverse points of view found in our community.
If you have any questions, please contact us at 336-758-5475.