Spring 2018 Lectures
Rose O'Brien: MLK "Building the Dream" Lecture
Thursday, January 25, 2018, 4:00 PM
ZSR Library Auditorium (Room 404, Reynolds Wing), Wake Forest University
Rose O'Brien is a senior Politics and International Affairs major from Winston Salem, NC. In addition to being a Carswell Scholar, she also received the Richter Scholarship to work at a refugee center in Italy, work which she continues in Winston Salem through the refugee resettlement office here. Ms. O'Brien is also the President and founder of SAFAR, the Student Association for the Advancement of Refugees. For this work, she was awarded the "MLK Building the Dream Award" in 2017.Ms. O'Brien will discuss her experience working with refugees in both Italy and the US, and the life-multiplying and gratifying experience of creating friendships across religion, race, class, and nation.
The NCAA Faces Steep Trade-Offs from Its Governance Decisions
Wednesday, January 31, 2018, 4:00 PM
ZSR Library Auditorium (Room 404, Reynolds Wing), Wake Forest University
Dr. Todd McFall is an economist and author specializing in sports and economics who teaches at Wake Forest University in the Department of Economics. He will discuss his controversial book, The (Peculiar) Economics of NCAA Basketball. The NCAA has decided to organize its revenue-generating sports, men's basketball and football, around particular governance principles that have forced the organization to reconcile steep economic and legal trade offs. By choosing to cap athlete compensation, the NCAA is not only having to defend its practices to the US judicial system, but it also gives up its ability to defend itself against rival leagues who might want to bid away elite players from NCAA members. The NCAA collects 90% of its operating revenue from men's basketball, so the ramifications of the NCAA operating in a non-optimal manner are widespread and meaningful to college-level athletics and universities as a whole.
In keeping with the topic of this book, this lecture will take place on the same day as a home basketball game at 8:00 against Florida State.
Ancient Forests of England
Wednesday, February 7, 2018, 4:00 PM
ZSR Library Auditorium (Room 404, Reynolds Wing)
Dr. Bob Browne, Wake Forest University Professor of Biology, and recipient of the Nathan and Julie Hatch Research Grant for Academic Excellence, will discuss his research at Oxford University on the Ancient Forests of England. His talk will focus on the ancient woodlands of Britain, most of which were former Royal land holdings. These fragments of ancient forests are relatively small but have land use documentation that can be traced for many centuries, often to the 11th century Domesday inventory. For some sites there are also excellent records for which species of insects, such as beetles, butterflies and moths, that have been collected there, sometimes for hundreds of years. By examining these valuable records and comparing them to what insects are currently found in the forest fragments we can estimate how much biodiversity was lost over various time periods. He will also talk about how various forest practices, such as pollarding and coppicing, affect insect and plant diversity. Research on ancient woodlands should be of interests not only to ecologists but to all those who care about our dwindling forests and the heritage they contain.
Luggage: A Book Talk with Susan Harlan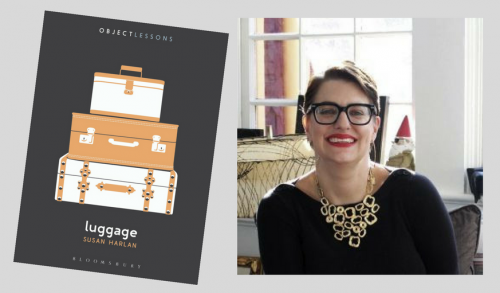 Monday, March 26, 2018, 4:00 PM
ZSR Special Collections & Archives Reading Room (Room 625, Reynolds Wing)
Join us for a special Library Lecture event as Dr. Susan Harlan of the WFU English department reads from her book Luggage, newly published in Bloomsbury's Object Lessons series, and discusses the challenges and rewards of writing beyond the academy.
You can't think about travel without thinking about luggage. And baggage has baggage. In her new book Harlan takes readers on a journey with the suitcases that support, accessorize, and accompany our lives. Along the way, she shows how the materials of travel – the carry-ons, totes, trunks, and train cases of the past and present – have stories to tell about displacement, home, gender, class, consumption, and labor. Luggage considers bags as carefully curated microcosms of our domestic and professional selves, charting the evolution of travel across literature, film, and art. A simple suitcase, it turns out, contains more than you might think.
This event will also feature a pop-up exhibit of luggage from the WFU Archives and ZSR manuscript collections. And participants are encouraged to bring along their favorite bags-with-stories!
Arnold Palmer: A Golfer's Life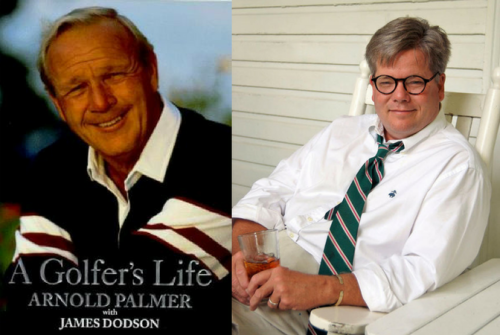 Wednesday, April 4, 2018, 4:00 PM
ZSR Library Auditorium (Room 404, Reynolds Wing)
James Dodson, two-time winner of the United States Golf Association's Herbert Warren Wind Award for best golf book of the year, will discuss his book, A Golfer's Life (with Arnold Palmer). Books will be available for purchase and signing.
Dodson's lecture will take place on the eve of Arnold Palmer Day 2017, which is an annual event hosted by the Wake Forest Traditions Council. Dodson is founding editor of O. Henry, Salt and Seasons Style & Design Magazines. He is editor of PineStraw Magazine and Editorial Director of Business North Carolina Magazine. Dodson is also founding editor of The North Carolinian, a new statewide Arts and Culture Magazine in partnership with UNC-TV, which has a planned debut date of March 2018. Dodson grew up in Greensboro, NC where his family dates back generations and where he currently resides. He is the author of 14 books.
---
---