This article has been reproduced in a new format and may be missing content or contain faulty links. Contact zsrweb@wfu.edu to report an issue.
On Thursday, June 18th, Bobbie Collins, Carolyn McCallum, Leslie McCall, and Sarah Jeong attended the 4th Annual Information Literacy Conference in Charlotte. As usual, the organizers of this conference did an excellent job pulling together an impressive group of speakers who addressed a variety of issues and trends relating to information literacy. The 100 attendees were able to select from several breakout sessions that focused on the broad areas of pedagogy, assessment, and technology. And for the first time attendees were able to view several poster sessions. The poster sessions added a new dimension to the conference and provided an opportunity for poster session presenters to exchange information with other attendees in a relaxed setting.
Bobbie, Carolyn, Leslie and Sarah submitted a poster session proposal to Metrolina and were very pleased when the proposal was accepted. During our assigned time period, we discussed with other conference participants the challenges that we faced in developing and teaching the subject specific IL credit courses for the Sciences, Social Sciences and Humanities. Sarah and Carolyn were able to capture some pictures of the posters.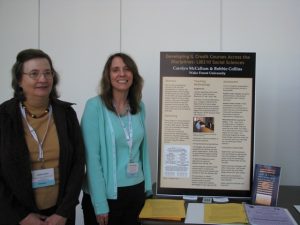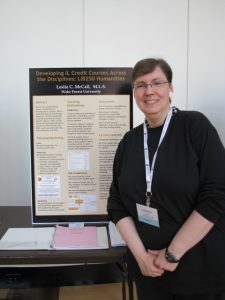 This year's keynote speaker was Jill Gremmels, Leland M. Park Director of the Davidson College Library. Prior to her position at Davidson, Jill was the College Librarian at Warburg College in Iowa. In 2002, Warburg College was one of 10 institutions invited to the Best Practices in Information Literacy Conference. As part of her presentation, Jill discussed the "Characteristics of Programs of Information Literacy that Illustrate Best Practices: A Guideline." Before the conference, attendees received a link in an email with a note to review this information before the conference: http://www.ala.org/ala/mgrps/divs/acrl/standards/characteristics.cfm
This document which was approved by the ACRL Board in 2003 provides some excellent background information to help individuals develop, assess and improve IL programs. Moreover, the document notes that these characteristics may be useful for benchmarking purposes.
Jill mentioned that San Francisco State University undertook a self-study of its IL program and used the ACRL best practices characteristics as a benchmark to compare their data. For additional information about how they went about creating and implementing the survey instrument, Jill recommended reading the article by Kendra Van Cleave entitled "The Self-Study as an Information Literacy Program Assessment Tool" which appeared in the 2008 issue of College & Undergraduate Libraries Vol. 15(4), pp – 414-431. This article is available online if you are interested in reading it.
Mike Olson from UNC Charlotte asked the question: "How do we get students to discern?" During his presentation, he mentioned the ACRL standards and provided the ACRL defintion of IL. He noted that Donna Gunter (Coordinator, Information Literacy and Instructional Services at the J. Murrey Atkins Library) is busy preparing materials for a new online resource that will be up on the library's website by August 24. Mike reported that 490 library instruction sessions were given during 2007-2008 and 690 sessions were provided during 2008-2009 reaching 14,794 students.
Joan Petit, who is the Instruction and Reference Librarian at the American University in Cairo, Egypt, led a session called Library Instruction 2.0. Many of the technologies she discussed, ZSR has been utilizing (i.e. Facebook, blogs, and wikis). According to Ms. Petit, students in Egypt are nuts about Facebook, so she created a FB page for her library. It took quite a while for her to get approval to create the page. AUC Main Library's FB page has 966 fans. She uses WetPaint.com, a free website builder software program, to set up a wiki for her IL classes and wishes that her library would use Twitter. Ms. Petit authors a blog called The Chatty Librarian and can be followed on Twitter as well by the username chattylibrarian. One interesting thing she reported is that Duke has created an iPhone app. for individuals to browse Duke's digital collections.
"I Never Wanted to be a Teacher" was the title of the session led by Nora Bird and Linda Gann, both of UNCG's Department of Library and Information Studies. At the beginning, they asked attendees to write on a note card two job responsibilities one had when they were first hired and two responsibilities that one is currently doing in their job but wasn't listed in the original job description. They feel there is a disconnect between library school curriculum and instruction/teaching and they are gathering information to determine how MLIS programs should respond. Using Powerpoint, they flashed job advertisements for public and academic libraries on a screen that dated back to the 70's, 80's, 90's and today. One could definitely see a trend in advertisements going from "seeking a person with people skills" to ones that required skills in teaching and instruction of technology and other library resources.
Diane Harvey from Duke University led a session on "Assessing for Improvement: Student Learning Outcomes Assessment for Information Literacy Instruction." Student Learning Outcomes Assessment is a systematic look at what students are learning. Learning Outcomes Assessment is not an evaluation of teaching, but it moves instruction away from "What am I going to teach today?" to "What do I want students to learn today?" Some examples of assessment methods include knowledge tests, the One Minute Paper, bibliography analysis, concept inventory, and standardized tests. Student Learning Outcomes Assessment provides a practical student-centered approach to teaching as well as a means to improve teaching.
Amy Gustavson and Clark Nall from East Carolina University led a session on "Evidence-Based Librarianship in Assessment of Information Literacy Instruction." Gustavson and Nall's presentation focused on the theory and different research methodologies of Evidence-Based Librarianship research. Evidence-Based Librarianship provides a foundation for the practitioner and helps practitioners make effective evidence-based decisions. Gustavson and Nall are currently researching the comparison of students' self-reported confidence in their research skills and testing their knowledge of research skills.
Overall, this conference was very informative. We highly recommend it to those interested in information literacy. If you would like to discuss any of the sessions that we attended, please let us know!