This article has been reproduced in a new format and may be missing content or contain faulty links. Contact zsrweb@wfu.edu to report an issue.
Since I traveled to South Korea soon after ALA ended, I've had time to reflect on my time at ALA, which was rejuvenating for me. I was recently appointed to the ACRL-Science & Technology Section (STS) Continuing Education Committee, and we had our committee meeting on Saturday morning. It was also great to catch up with other academic science librarians at the ACRL-STS Member Meeting and Breakfast and the ACRL-STS Dinner. Based on the various STS programs that I attended at ALA, here are some highlights for further reading: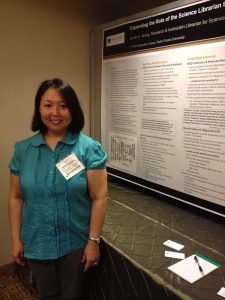 On Monday, I presented at the ACRL-Science & Technology Section Poster Session on "Expanding the Role of the Science Librarian to the Bioinformatics Domain." My poster presentation highlighted the evolving, multifaceted aspects of my role in instruction and liaison work in bioinformatics in order to meet the needs of science students at the undergraduate and graduate level. My responsibilities have expanded in four directions: (1)Research interest, (2)Instruction, (3)Liaison work as an Embedded Librarian, and (4)Collection development for the Biomedical Informatics Graduate Program Proposal.
By advancing scientific knowledge through research and publication on bioinformatics, I was equipped to teach about data literacy in the following roles:
Instructor, LIB220 Science Research Sources and Strategies
Guest Lecturer, LIS612 Science and Technology Information Sources
Embedded Librarian in genetics and bioinformatics courses
I taught new trends in bioinformatics research to the following student populations:
Science majors in LIB220
Pre-health students in LIB220 & BIO213
Freshmen in Bioinformatics FYS
MLIS students in LIS612 at UNCG
Keeping at the forefront of bioinformatics research enabled me to offer innovative instruction and liaison work at the point of need to advance ZSR Library's mission to help students and faculty succeed. Thanks to Lynn, Roz, and Hu for coming out to support my presentation.