This article has been reproduced in a new format and may be missing content or contain faulty links. Contact zsrweb@wfu.edu to report an issue.
I was one of the workshop organizers as a member of the NCLA Women's Issues in Libraries Round Table (WILR) Executive Committee of the November 2012 Raleigh workshop on "Insider's Guide to Your Potential: Trust, Leadership and Happiness in the Workplace." Stephanie Goddard led the morning session on "Building High-Trust Environments in the Workplace." There were approximately 30 attendees, and the participants reflected on building and repairing trust in the workplace. Some themes of the discussion were the importance of being a team player, respectful of others, and a good listener.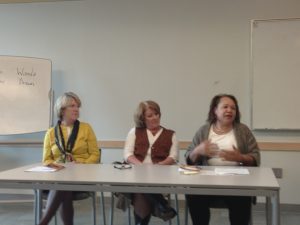 In the afternoon, the invited panelists were Wanda Brown, NCLA President, Dale Cousins, NCLA Vice President & President-Elect and Cal Shepard, State Librarian. Each panelist shared her unique perspective on leadership. The attendees asked many questions and participants said that it was a great workshop to reflect and discuss these important issues.