This article has been reproduced in a new format and may be missing content or contain faulty links. Contact zsrweb@wfu.edu to report an issue.
ALA Annual in Chicago was great this year, and I attended multiple programs sponsored by the Asian/Pacific American Librarians Association (APALA) and the Association of College & Research Libraries Science & Technology Section (ACRL STS). APALA is an affiliate of ALA, and I met some of my fellow Executive Board members when I volunteered at the Association Options Fair as incoming Board Member-at-Large.
One of the best sessions that I attended was the annual Asian/Pacific American Awards for Literature Ceremony sponsored by APALA.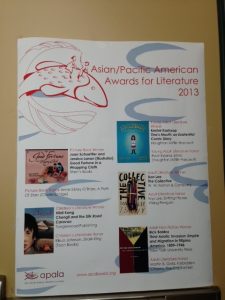 This year, the APALA President's Program was co-sponsored by the Gay, Lesbian, Bisexual & Transgender Round Table (GLBTRT) on "Pushing the Boundaries: LGBTQ Presentation and Representation of/by Asian/Pacific American Writers." The panel was moderated by Mary Anne Mohanraj and included authors Malinda Lo, Dwight Okita, and MOONROOT zine collective members Sine Hwang Jensen and Linda Nguyen.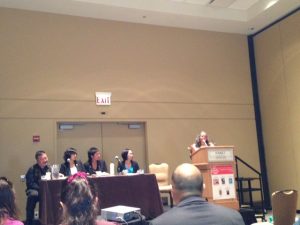 One of the highlights of ALA was attending the APALA Social at the Oak Park home of writer Mary Anne Mohanraj. Dr. Mohanraj is Professor of Fiction and Literature at the University of Illinois-Chicago. I enjoyed Sri Lankan cuisine and networking with other APALA members.
I am a member of the ACRL STS Continuing Education Committee, and over the last year I led the update of the STS Guide to Professional Development Resources for Science & Technology Librarians.
Monday morning, I attended a program co-sponsored by ACRL STS and the Health Sciences Interest Group (HSIG) on "There's an App for That: The Use of Mobile Devices, Apps and Resources for Health and Sci-Tech Librarians and Their Users." The takeaway from the presentation is to start with learning outcomes and then think about which apps and technology to support the learning outcomes in instruction. Other related issues with using mobile apps in instruction are cost, device, function and usability, security and privacy, support, reliability, and access. I brought up the point that it would be a good idea to do a pre-course clicker survey to assess how many students have an iPhone, Android smartphone or neither.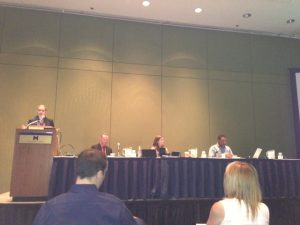 Resources and further reading:
National Library of Medicine Gallery of Mobile Apps
MIT Libraries' Apps for Academics
The Handheld Library: Mobile Technology and the Librarian by Thomas Peters and Lori Bell
Mobile Library Services: Best Practices edited by Charles Harmon and Michael Messina
Tablet Computers in the Academic Library edited by Rebecca Miller, Heather Moorefield-Lang, and Carolyn Meier
Monday afternoon, I attended a program on "Altmetrics, the Decoupled Journal, and the Future of Scholarly Publishing" by Jason Priem. Here are some highlights from his talk:
altmetrics is a new way of measuring impact
"Communication is the soul of science", and librarians are the experts of scholarly communication (pun intended)
Philosophical Transactions was the first journal based on the available technology (printing press) to improve dissemination
Instead of moving paper-native products, creating web-native science
Favorite quote: "An article is a story about data"
Bibliometrics mined impact on the first scholarly web by measuring citations
The old way: counting citations but citations only tell part of the story
Impact has multiple dimensions: PDF views, discussion on scholarly blogs and Twitter, Mendeley and CiteULike saves, citations, and recommendation
ImpactStory is for researchers and is funded by the Alfred P. Sloan Foundation
Abstrac: "Your dynamic personal scientific journal"
nanoHUB.org "Online simulation and more for nanotechnology"
I also made time to talk to vendors on the Exhibits floor and met with the Proquest Vice President STEM and provided input on the development of new science information resources. My summer reading list has become longer as a result of ALA, and I am looking forward to serving on the APALA Executive Board.