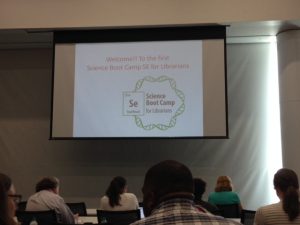 Modeled closely on the wildly successful Science Boot Camps that originated in the Northeast US and have spread West and to the far North in Canada, I worked as a conference organizer with science librarians from NCSU, UNC, ECU, Duke, and Elon and hosted the first Science Boot Camp for Librarians in the Southeast. Over 90 science librarians and medical librarians from the Southeast to Pennsylvania to California attended this 2 ½ day science immersion conference in mid-July at the Hunt Library at NCSU. ZSR Library was one of the many sponsors of Science Boot Camp SE. I served as a member of the Program Committee and as Co-Chair of the Librarian Lightning Talk sessions, and coordinated 15 lightning talks by science librarians from all over the U.S.
Science faculty from UNC, NCSU, and ECU were invited speakers on alternative/sustainable energy, data sharing, data visualization, and climate change. Other invited speakers were from Wake Forest School of Medicine on data management and data sharing of clinical trials and also from Duke University Libraries on data visualization services.
A major highlight of the conference was dinner with colleagues at the N.C. Museum of Natural Sciences. It turned out to be an excellent conference with inspiring talks by science faculty, researchers, and science librarians. I'd be happy to talk more about it if anyone would like to chat!