The Asian/Pacific American Librarians Association (APALA) celebrated its 35th anniversary with a daylong Symposium on June 25th at the University of San Francisco. ALA President Courtney Young and President-Elect Sari Feldman opened the Symposium. The keynote speaker was Valerie Kaur, civil rights lawyer and documentary filmmaker. The theme of the Symposium was "Building Bridges: Connecting Communities through Librarianship & Advocacy". Over 100 librarians, presenters, community activists, and writers/artists/filmmakers came together to celebrate this milestone.
My term as Secretary of the APALA Executive Board ended at ALA Annual. I became well-versed in parliamentary procedures through monthly virtual Executive Board meetings, and I gave an overview of Robert's Rules of Order for incoming Executive Board members at ALA Annual. I also served as Co-Chair of the Archives and Handbook Task Force and co-authored the APALA Operational Manual, which was approved by the Executive Board in June 2015.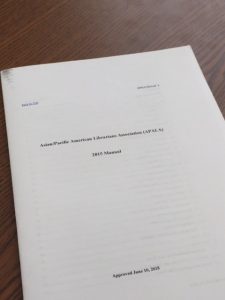 It will provide a reference for the Executive Board officers and committee chairs on committee procedures and timelines as well as provide a better understanding of the organization for succession planning.
I have been a member of the ACRL Science & Technology Section (STS) Continuing Education Committee for 3 years, and we met on Saturday morning. I am continuing to monitor the STS listserv for announcements of upcoming conferences, including science librarian boot camps, and uploading the conference links to the CE Professional Development webpage. The Continuing Education Committee also co-hosts the STS Membership Breakfast, which I helped organize. We had a great turnout, and here are a couple resources that were shared at the breakfast:
http://insidescienceresources.wordpress.com
http://iue.libguides.com/STS-informationliteracyresources
I also learned about a new-to-me teaching methodology called the Cephalonian Method, which was used in the STS College Science Librarians Discussion Group with pre-canned questions on color-coded cards for the audience. The Cephalonian Method was created by two UK librarians to increase participation in the middle of class. I'm planning to use the Cephalonian Method in my library instruction and LIB220 Science Research Sources and Strategies course.