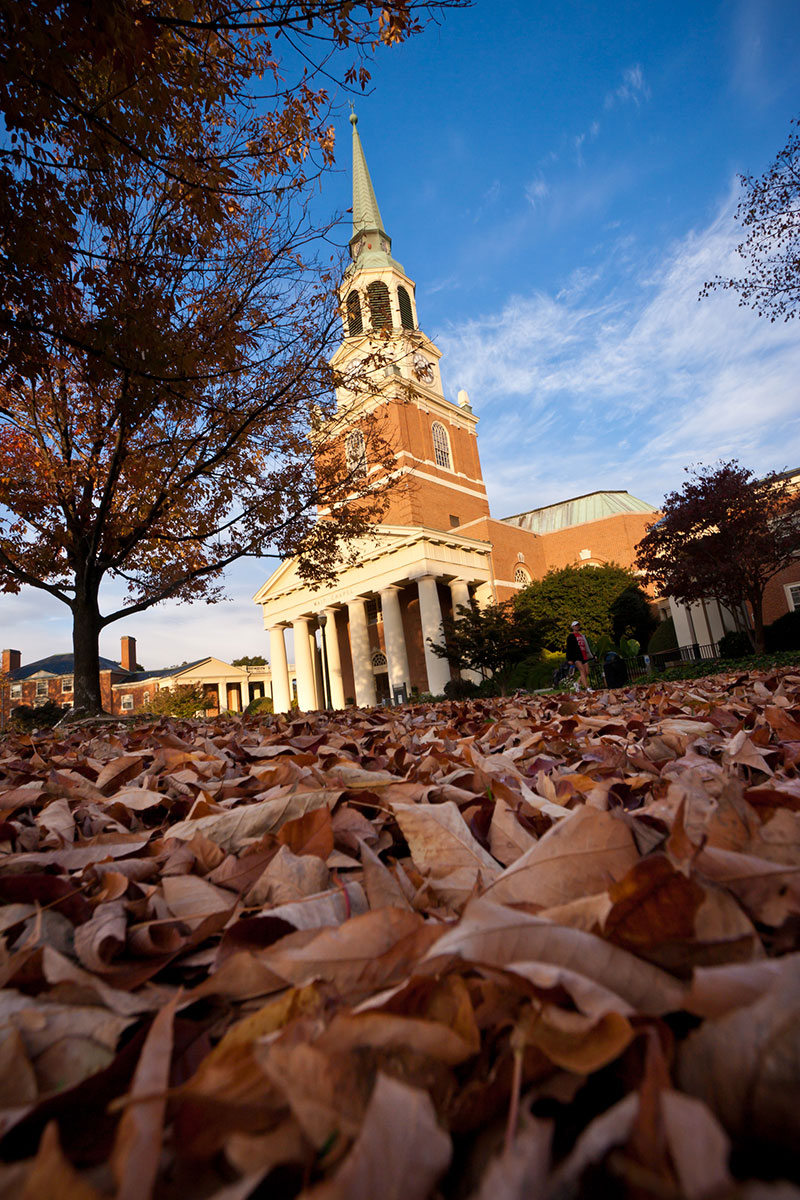 Wait Chapel
The most prominent building on campus is named after Samuel Wait, the first President of Wake Forest College. For almost three years, he traveled the state of North Carolina gathering support and favor for a Baptist school. Having achieved the necessary vote from the North Carolina legislature, he became Principal of the new Institute when it opened in 1834. He resigned the Presidency in 1845 due to illness and lack of physical strength after leading the College through financial hardships, including a near bankruptcy in 1841.
Wait Chapel is one of the first buildings to have been constructed when Wake Forest College moved to Winston-Salem in the 1950s. The cornerstone was laid in 1953, despite 1952 being carved into it, and contains a time capsule which holds a 1953 penny, a magnolia leaf, and other objects. The foremost purpose of the building has been religious since it was completed. Students attended mandatory chapel services there for decades, and it now hosts Wake Forest Baptist Church. Wait Chapel has been the location of Presidential debates and has seen numerous speakers such as Condoleezza Rice in 2012 and talk show host Jay Leno in 1989. The steeple contains the Janet Jeffrey Carlile Harris Carillon which can be heard most every weekday at 5:00pm during the academic year.
At the rear of Wait Chapel is Wingate Hall. Wingate is the home of the Wake Forest School of Divinity, Davis Chapel, Department of Religion, and Wake Forest Baptist Church offices. It was named after Wake Forest's fourth President: Washington Manly Wingate. Wingate's administration saw the creation of the Alumni Association and the James Denmark Loan Fund. His reign experienced the closing of the College due to the Civil War and the post-war restart. An original part of Wait Chapel, it was renovated from 1997-1998 to accommodate the new Divinity School which opened in 1999. Davis Chapel is the small chapel located in Wingate Hall and is named after Paul Price Davis, an alumnus. It is used for religious services by various campus ministries including the Wake Forest Catholic Community. Davis Chapel held Wake Forest's first Lovefeast in 1965 with fewer than 200 students. Today, Lovefeast is held in Wait Chapel and draws in over 2000 participants to make it the largest Lovefeast in North America.