This article has been reproduced in a new format and may be missing content or contain faulty links. Contact zsrweb@wfu.edu to report an issue.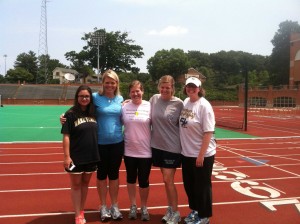 The ZSR Zone (formerly the Zephyrs) competed in another Biggest Winner (formerly Summer Olympics) and had a wonderful time! This year's team was a hybrid Library and Bridge team made up of Felicia Bottoni, Anna Dulin, Tony Johnson, Molly Keener, Rebecca Petersen, and Rachel Weaver. Only one member had participated before so the team was unaware of what exactly they were getting into. Competitions included old favorites like bowling, inner-tube water polo, table tennis, and a field day. The majority of the points earned, however, were entirely based on the individual in an effort to reduce each person's body mass index.
The Zone performed admirably, achieving a team BMI reduction of 10%!!! One individual went down 8%, but it is a team secret. The best parts about competing this year was to get away from our desks, to enjoy team work with members of ZSR we rarely work with, to meet new members of the WFU community, and to show ZSR's spirit of competition and camaraderie. Thanks to the Zone, it was a great time.