Build a Library for the Future
Welcome › Connect › Inspire › Succeed
The Z. Smith Reynolds Library, long an icon on the Wake Forest University campus, is planning for the future. In an increasingly digital environment, the physical library is more relevant than ever. The library plays an essential role in helping students assess quality information and develop critical thinking skills. Faculty members are eager to partner with librarians in their teaching and research. In order to realize these unprecedented opportunities, the library building needs new learning spaces that will inspire.
New Entrance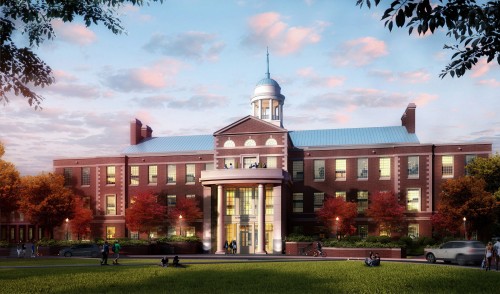 The people who work at ZSR are renowned for their openness, warmth, and welcoming hospitality. In our vision, the building should reflect these same qualities. In the future Z. Smith Reynolds Library, we imagine a gracious, new entry portico — a gateway by day and beacon by night, that calls out to those who enter the campus and illuminates the library as a nexus for learning.
The interior core of the building will be opened up to become a clear, light-filled passage connecting the arrival experience with the library's signature space, the Atrium. At the entry level, this expansive hall will host the library's consolidated service points in an easy-to-navigate hub of blended services.
Special Collections & Archives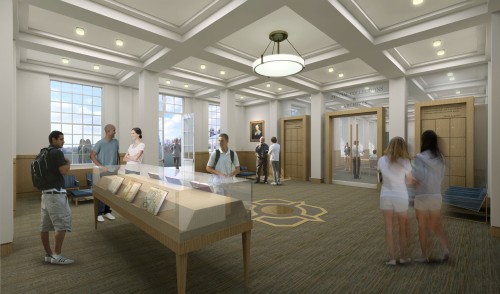 Special Collections and Archives hold the most valuable treasures on campus. It is their responsibility to preserve these precious cultural artifacts in their original form as well as digitizing them, when possible, to share with researchers all over the globe. Our vision calls for a spacious, new Reading Room on the sixth floor of the original Reynolds wing of the library, as well as a classroom, gallery space and even an outdoor terrace with vistas overlooking the campus. The prominent location increases visibility and exposure to collections and exhibits for both researchers and casual library visitors alike.
Collaborative Spaces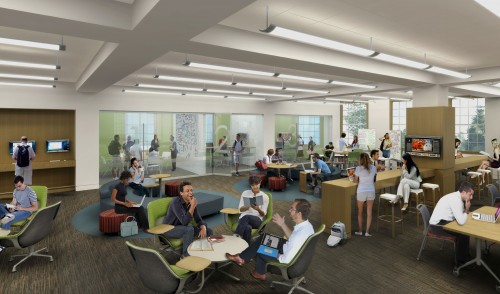 Tomorrow's students will look for spaces where they can connect with friends and classmates in a variety of interactive settings. Open, collaborative work and study spaces are planned for the fourth and sixth floors of the library's Wilson wing. Technology enhanced classrooms, group rooms and study zones will facilitate collaborative work while increasing access to digital resources. Technology will never be very far away with monitors and digital signage everywhere to maximize connectivity.
---
Related Information
Section Navigation
---