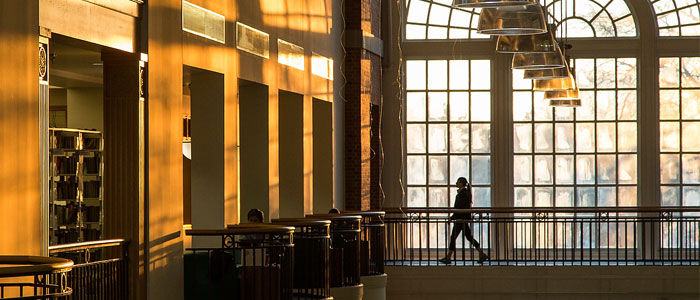 Mission, Vision, & Strategic Plan
Mission
The mission of the Z. Smith Reynolds Library is to help our students, faculty, and staff succeed. We do this by providing unparalleled service in managing, delivering and teaching the use of scholarly content and information technology.
See also our Library Values.
Vision
Wake Forest University library users will have many choices for information in the next ten years. Scholarly books and journals that used to be available only in print will be increasingly, and sometimes exclusively, available in digital format as well. Scholarly journals, in particular, will be almost completely transformed to a digital form. Changes in promotion and tenure requirements and the culture of each discipline will drive changes in scholarly communications in every field of academic inquiry. The Z. Smith Reynolds Library will lead the evolution and adaptation to changing information technologies. As new technologies become available and are adopted by scholars in the field, the Library will lead the campus in accessing, assessing, and teaching the use of new sources of information that are critical to the mission of the University.
The Library also recognizes its responsibility as a cultural institution to preserve the unique primary resources in its care. While the digitization of these resources is highly desirable so that they may be used by a global audience, their preservation as physical cultural artifacts is equally vital.
As a physical place, the Library will further its evolution from a container of books and journals to an active learning place that is the academic center of campus. Students and faculty will choose to come to the library to learn about new resources, obtain help in using them, and collaborate with others to produce creative new expressions of ideas.
A simple statement of this vision is:
The Z. Smith Reynolds Library will be the first and favorite source for Wake Forest users in their quest for knowledge.
Strategic Plan
Z Smith Reynolds Library's previous strategic plan was put in place in 2007, in conjunction with the Wake Forest strategic plan. By 2011, all viable components of the plan had been accomplished. Our success in accomplishing this ambitious plan was affirmed when ZSR won the ACRL Excellence in Academic Libraries award for 2011.
The 2011-2012 academic year brought change to Wake Forest as Provost Jill Tiefenthaler left and the search for her successor took place. Rather than mark time as we waited for a new Provost to arrive, we believed that it was important to continue to move forward. As the University prepares to embark on a new Capital Campaign, we realize the importance of continuing to position the Library to lead the transformational changes that are happening in higher education today.
2010 SPITI Report
In addition, the Strategic Planning Committee for Innovation in Technology and Information (SPITI), charged with investigating the importance of future advances in the fields of technology and information, has developed a plan to enable Wake Forest to take best advantage of them. The SPITI Final Report is available.
If you have any questions, please contact us at 336-758-5475.