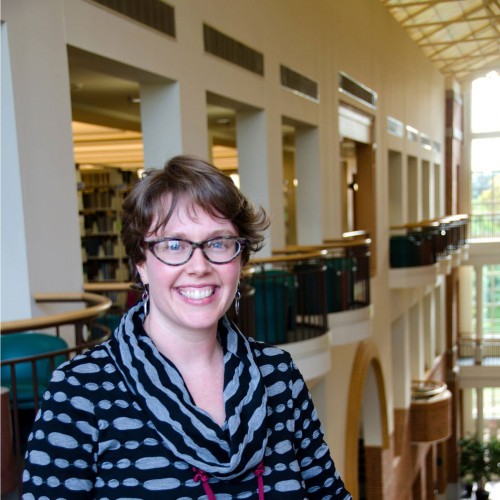 Name

Molly Keener

Position

Scholarly Communication Librarian

Email

Phone

Team

Liaison

Health and Exercise Science / Mathematics and Statistics
Molly Keener joined the faculty of Z. Smith Reynolds Library, Wake Forest University, in October 2009. As the Scholarly Communication Librarian, she advances a campus-wide scholarly communication education campaign supporting faculty research and publishing endeavors. She supports faculty seeking to: manage their copyright and intellectual property rights; explore alternative publishing options, including open access publishing and archiving; comply with funder mandate requirements; and create permanent electronic collections of their scholarship. Ms. Keener also educates graduate students on the importance of managing copyrights when publishing, and supports them in submitting electronic copies of their theses and dissertations. She is the library liaison to the Health and Exercise Science and Mathematics departments, and is an instructor for the Library's undergraduate information literacy course. Prior to joining the faculty at ZSR, Ms. Keener was a reference librarian at WFU School of Medicine's Coy C. Carpenter Library. She earned her BA from the University of North Carolina at Chapel Hill, and her MLIS from the University of North Carolina at Greensboro.
Publications
Burris, Christian, McCallum, Carolyn, & Keener, Molly. (2016). Incorporating Branded Academic Library Programming to Promote and Showcase Campus Research and Artistic Performances. North Carolina Libraries, 74(1), 13-20.
Keener, Molly. (2015). Contextualizing Copyright: Fostering Students' Understanding of Their Rights and Responsibilities as Content Creators. Virginia Libraries, 61, 37-42. #
Keener, Molly, Lock, Mary Beth, & Makaravage, Ellen. (2013). Ethical Uses of Information: The Good, the Bad, the Confusing. Research Like a Librarian: Accessing Information in the 21st Century. wakExpress: Winston-Salem, NC.
Keener, Molly, Johnson, Vicki, & Collins, Bobbie. (2012). In-house Collaborative Mentoring Programs that Capitalize on Campus Community Strengths. College & Research Libraries News, 73(3), 134-146. #
Keener, Molly, & Sarli, Cathy. (2010). Public Access Policy Support Programs at Libraries: A Roadmap for Success. College & Research Libraries News, 71(10), 539-542. #
Presentations
Cross, William, Keener, Molly, & Morrison, Heather. (2015, November). Elsevier's Heirs, or, Yes, Copyright IS Confusing. Charleston Conference, Charleston, SC. #
Davis-Kahl, Stephanie, & Keener, Molly. (2014, August). Cultivating Creators: Copyright in the Information Literacy Classroom. ACRL e-Learning Webcast, Online. #
Keener, Molly. (2014, March). Author Rights: Managing Your Copyright. Florida Scholarly Communications Interest Group, Online.
Keener, Molly, & Cross, William. (2013, October). Scholarly Communications: From Understanding to Engagement. ACRL Scholarly Communications Road Show, ACRL Oklahoma Chapter; Oklahoma State University, Stillwater, OK.
Jeong, Sarah, & Keener, Molly. (2013, October). The Impact Factor, Eigenfactor, and Altmetrics: From Theory to Analysis. North Carolina Library Association Biennial Conference, Winston-Salem, NC.
Committees & Offices Held
SHARE Manual Creation Task Group, Member. (June 2015 - Present).
ProQuest Dissertations and Theses Advisory Board, Member. (November 2014 - Present).
OATD.org, Editorial Board. (March 2013 - Present).
ACRL Research and Scholarly Environment Committee, Member. (July 1, 2011 - June 2015).
ACRL 2013 Conference Panel Session Committee, Member. (July 1, 2011 - June 2013).
Note: Above is a selection of Molly's professional activity.
Recent Posts
Inside ZSR
Here @ ZSR
---