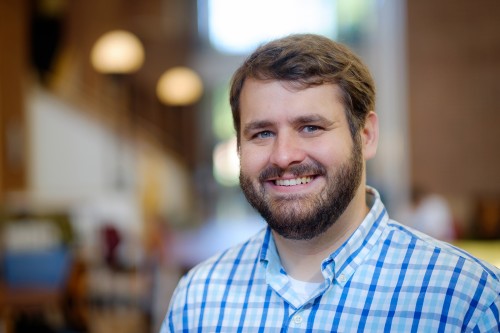 Name

Kyle Denlinger

Position

eLearning Librarian

Email

Phone

Team

Speciality

Education & Counseling

Liaison

Counseling / Education / Teaching and Learning Center
Kyle Denlinger is the eLearning Librarian at Wake Forest University's Z. Smith Reynolds Library, where he develops the library's emerging platform of open online courses, teaches the library's credit-bearing information literacy course, and helps faculty create flipped, blended, and fully online classes. His interests include massive open online courses, open educational resources, and designing authentic online learning experiences. Kyle earned his MA in Information Science & Learning Technologies from the University Missouri--Columbia and his BS in Secondary Education from the University of Cincinnati. He has been recognized as a 2014 Library Journal Mover and Shaker and a 2014 American Library Association Emerging Leader.
Presentations
Denlinger, Kyle, Brecher Cook, Dani, Garrett, Jennifer, & Wong, Sabrina. (2015, March). High/Low/No Tech: A Snapshot of Instructional Techniques from Four Academic Libraries. ACRL 2015, Portland, OR.
Denlinger, Kyle, Winn, Jade, & Thomas, Wm. Joseph. (2014, June). Leading from the Side: On, Off, and Within Your Campus (Panel discussion). ALA 2014, Las Vegas, NV.
Denlinger, Kyle. (2013, June). ZSRx: A mini-MOOC for Reaching New Audiences. ALA 2013, Chicago, Illinois.
Denlinger, Kyle. (2013, April). ZSRx: An Information Literacy MOOC. CNI Spring 2013 Membership Meeting, San Antonio, Texas.
Committees & Offices Held
Library and Information Technology Association, Member, Program Planning Committee. (July 1, 2013 - July 2015).
Library and Information Technology Association, Member, Education Committee. (July 1, 2013 - Present).
Association of College & Research Libraries Distance Learning Section, Outreach Committee Member. (July 1, 2013 - July 2015).
Recent Posts
Professional Development Blog
Here @ ZSR
If you have any questions, please contact us at 336-758-5475.