This article is more than 5 years old.
On Friday, July 21, Kathy and I traveled to Boone to attend the 2017 AppState Free-Learning Conference, hosted by App State's Center for Academic Excellence. This free one-day conference places special emphasis on educational technology and e-learning, and we each came away with some new and exciting ideas. Here are some main themes and our primary takeaways:
Google is dominating the ed-tech conversation (at least locally)
Seriously, nearly every session had some mention of what folks are doing with Google in their teaching. There was a lot of talk about Google Classroom as a replacement or supplement to a traditional learning management system (Sakai, Moodle, Blackboard, etc.), and one session was just a group conversation on the question "What are you doing with Google at your institution?" Some places are just getting on board with the G Suite set of tools (formerly Google Apps for Education) that we're all so familiar with, so Kathy and I were able to contribute some of the more innovative things we've done with these tools in our own teaching. I was personally quite pleased by all of the questions about student privacy, such as whether the tools can be used in compliance with FERPA (answer: yes), or whether we should trust Google to not turn evil (answer: probably not, but the tools are so darned useful!). Whether Google or Apple would eventually dominate higher ed was once a subject of intense debate. Not so much anymore.
Healthy challenging of long-held beliefs
Anyone who's received any kind of training on writing learning objectives is probably familiar with Bloom's Taxonomy of learning. Bloom's outlines the different domains of learning (cognitive and affective, primarily, but we tend to focus mostly on the cognitive), and the different "levels" of at which learning happens (from the basic "Remembering" to the higher-level "Creating"), arranged neatly from simple to complex, usually in a nice pyramid graphic. Bloom's provides all of those nice verbs we use when running through the formula for creating learning objectives: "By the end of this lesson, students will be able to [ diagram/argue/discuss/outline/etc. ]…" It's basically gospel in many, many circles.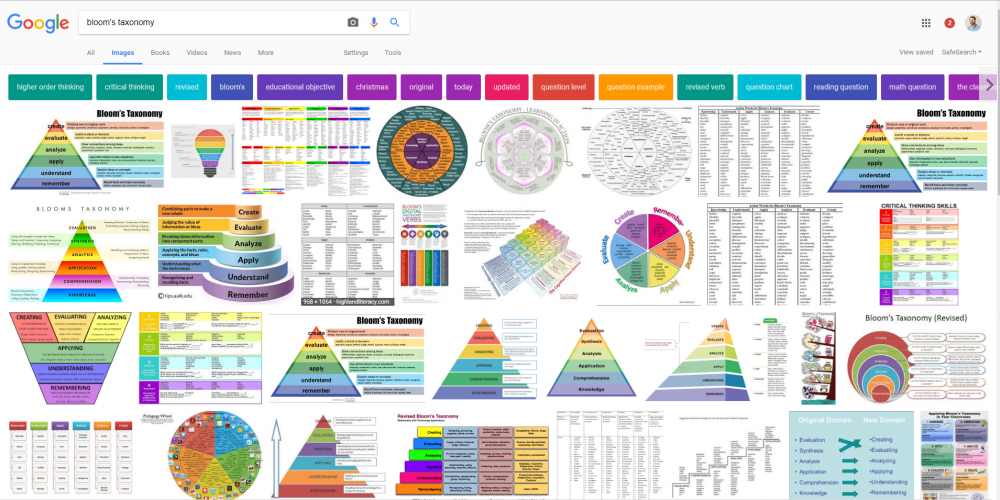 Candice Benjes-Small and Susan Van Patten from Radford University delivered a really compelling deconstruction of Bloom's: its history and persistence (it's tied closely to the ESEA of 1965, and in many ways persists because of the continuing reliance on standardized testing that the ESEA brought about), its research basis (none), the problems it causes (divorcing the learning from the content, treating learning like a neat linear process instead of the messy, iterative thing it actually is), and, despite its shortcomings, its continued usefulness (giving teachers, instructional designers, and administrators a common language that's focused on student learning, not teacher actions). This session was a terrific reminder to be critical of even our most cherished ideas as teachers.
The traditional syllabus was also a topic of discussion. Linda Nilson (of specifications grading fame) wrote another book, The Graphic Syllabus and the Outcomes Map, that proposes creating a more visual representation of student learning outcomes and how the course content and assignments connect back to those outcomes. This also fits in with the idea of creating a learning-focused syllabus, discussed in this 2015 article. Meghan actually introduced me (Kathy) to Nilson's book earlier this summer, and I had been thinking about how to create a graphic syllabus for LIB 210. In this session, Reeves Shulstad, a music professor at App, shared some background on the graphic syllabus and her own experiences with trying to represent her syllabus graphically, and then opened up the rest of the time for discussion. Some highlights:
Does a graphic syllabus actually replace the syllabus, or is it supplemental? (consensus was supplemental)
A graphic syllabus doesn't just stick info in a box rather than a paragraph – consider how you can use it to inspire your students, your teaching, etc.
Accessibility of graphics (can a screen reader read a flow chart, for example?)
Tools for creating graphic syllabi, including familiar (Word, PowerPoint) and newer (Prezi, Piktochart, Lucidchart)
Purpose/Benefits:

Lends transparency to your process and provides something that you can continue to return to throughout the semester to remind students of how a particular assignment/class fits into your larger goals.
More visually interesting than long blocks of text, but since supplemental, the traditional syllabus is also there for students who understand better through text (Universal Design for Learning FTW!)
The team at UNCG Online had a big presence, and they're doing plenty to challenge long-held beliefs about online education. They're obviously from a much larger institution that places a greater emphasis on their online program, but I have to admit I (Kyle) was positively drooling over the kinds of support available to their online instructors. Instructional design, graphic design, multimedia production, web development, writers and editors–a team of nearly 40. One session outlined their process for developing custom course sites in WordPress, which is a decidedly different approach to traditional LMS-based online education. These course sites are beautiful and reflect a significant investment in skilled personnel who have a firm grasp on learning design and user experience. One thing that I learned was that through their experimentation with course site design, students vastly prefer courses that are organized by theme or unit, rather than chronologically by week, as I have my own online course organized. Thanks for that, UNCG Online–now I have to redevelop my online LIB100 again.
Overall, this was a fun way to spend a Friday in July, especially in a place like Boone, which had a brewpub within walking distance at lunchtime and didn't get above 85 degrees all day. It was great meeting some folks we've "known" through the NCLA listserv for years, as well as some colleagues who are new to the area. We'll be back!