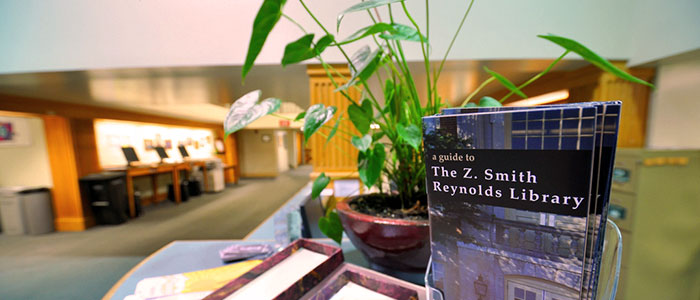 Suggestion Box
We Want to Hear From You!
Have a comment? A suggestion? The faculty and staff of the Z. Smith Reynolds Library welcome your comments and suggestions.
* indicates required field
Most Recent Comments
Front Desk Conversations
Please instruct the people working at the front desk to keep their conversation in check. I am studying/watching video lectures today (Saturday, March 15, 3-7 pm) at a computer on 4th floor today (with headphones on) and for 2 hour have heard loud talking and laughing from people working at the front desk on Floor 2. Several people on this floor have looked down into the Atrium area to see what was going on and the reason for the commotion. I finally walked down stairs to see why, and it was a two young women and a library visitor laughing and joking around. I asked the circulation attendant to see if he could do something about it, and it subsided for about 20 minutes but then started again.I visit the library frequent ly and have never had this problem before. Will you please look into this? I'm sure these individuals want to enjoy their weekend, and so do I. However, I feel that this distraction is unnecessary and inappropriate in a library with such a large, echoing open area in the center of the study floors.Thanks for your help.
Thank you for letting us know.
High-Volume Printers
The library needs high-volume printers that are meant to handle the large daily volume. The current printers are well beyond their intended daily capacity and frequently break or charge students for unprinted pages.
You are right. See my response to the previous comment. A new campus printer/copier contract is in the works.
Have a Recommendation?

If you would like to recommend a book or film for the library to purchase, please use the following links:

Important Links

What Others Have Said

To read what others have suggested, browse our Suggestion Box.

Contact Us

Want to contact us directly? See our Contact page or Staff Directory.
If you have any questions, please contact us at 336-758-5475.