As JP's post indicates there were many 'good idea' presentations and lively discussions on Wednesday. Demain Katz talked about the work he has been doing to turn Vufind into an OAI-PMH harvester and server (this would make it incredibly easy for us to harvest the items in Dspace and index them in Vufind), Greg Pendlebury talked about providing social software features at a network rather than individual library scale and there was an interesting discussion about using both Vufind and the XC metadata services toolkit to add authority data and authority management to Vufind (still pretty exploratory). JP and I also talked about the Voyager WebServices approach to providing book-based services in Vufind and brainstormed some options for indexing multiple databases in a single Vufind instance.
One of the overriding questions of the day was 'where is vufind going and what role will it play in our organizations over the coming years?' In afternoon breakout sessions there was a lively debate about indexing complex digital objects and metadata (EAD for example!) and what the best approaches were for handing non-marc data and services. Another group discussed linked data/authority records and a third group discussed network-scale issues in implementing Vufind.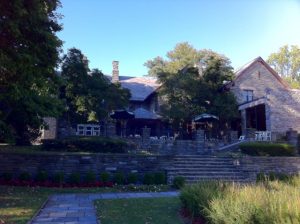 Villanova has been a great host so far and both the facility we are at (The Villanova Conference Center) and the dinner last night were great. More to come after the Thursday session.
---
Related Information
Section Navigation
---