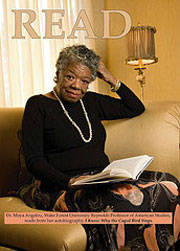 Maya Angelou
On April 12, 2007, WFU honored Dr. Maya Angelou with a reception to celebrate her gift to the library. With the Film and Theatre Media Manuscript Collection, Dr. Angelou has given the library her extensive works in cinema, television and theatre. The collection encompasses her work as writer, director, producer, editor, and featured actor.
The materials in the collection include play drafts, manuscripts, typescripts, correspondence, movie scripts, photographs, movie posters, theatre playbills, and directorial schedules totaling more than 63 linear feet. The celebration in April honored the life and work of Dr. Angelou while expressing gratitude for this unique and valuable gift collection.
The collection's primary and secondary source materials feature the multimedia works and writings of a prominent American writer, speaker, and director. Works represented include
Down in the Delta, Angelou's directorial debut film in 1998 featuring Alfre Woodard, Esther Rolle, and Wesley Snipes
Georgia, Georgia, (1972) Angelou's first original screenplay and musical score
I Know Why the Caged Bird Sings, a CBS production airing in 1979 based on the book of the same name starring Diahann Carroll, Esther Rolle, and Ruby Dee.
Beginning with the production of The Blacks by Jean Genet in 1961 in Berlin – featuring Maya Angelou – to Dr. Angelou's performance in the Hallmark Hall of Fame 2000 production of The Runaway in 2000, the library's gift is the pre-eminent collection of her multimedia compositions and productions.
Speakers at the event included President Hatch; Dr. Lynn Sutton, Library Director; Sharon Snow, Head of Special Collections & Archives; Dean Emeritus Tom Mullen; Provost Emeritus Ed Wilson; and Professor of English Emerita Elizabeth Phillips. A presentation of a framed "READ" poster was made to Dr. Angelou at the close of the addresses. See more photos from the event at the library's Flickr site.