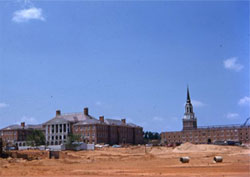 Reynolda campus during construction. Click the image to see more photographs from the Biebigheiser Digital Archive.
With the Lloyd Winchell Biebigheiser Digital Archive
Lloyd Winchell Biebigheiser (1884 – 1961) was an architect and designer trained in the Beaux Arts tradition. Biebigheiser was hired by architect Jens Fredrik Larson to design the ornamental features – lighting fixtures and chandeliers, stone and wood carvings, and wrought iron designs – for Wake Forest College's new Winston-Salem campus.
While working on the Wake Forest campus, Biebigheiser documented the progress of the construction with more than 500 slide photographs. Beginning with the groundbreaking ceremony in 1951 and ending with the first Convocation on the new campus in 1956, this collection provides a photographic history of nearly every aspect of the Reynolda campus construction.
Digital images of the collection are accessible through the Library's web site. Please contact the Special Collections Department, x5755, with any questions or comments about the Biebigheiser digital archive.