This article is more than 5 years old.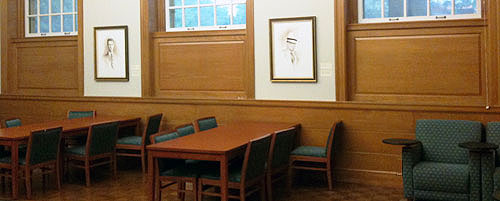 This guest post was written by Summer Hanna, a graduate student in the Chemistry Department.
Graduate students at Wake Forest are celebrating the one-year anniversary of the Gerald W. Johnson Graduate Lounge. The lounge has quickly become a popular location for graduate students. As a part of the summer 2008 renovations to the ZSR Library, the Johnson Graduate Lounge was transformed from a rarely-used, dark, uninviting space to a bright, cheerful area boasting both paintings of Wake Forest writers and ample room to address multiple needs. The lounge is available 24 hours a day, 7 days a week to all students in the Divinity School and the Graduate School of Arts and Sciences. Use of key cards ensures that only graduate students utilize the space, so competing for undergraduate study space is no longer an issue. This inviting lounge boasts several large study tables in addition to comfortable plush seating so that students may easily work in groups or individually. The Johnson Graduate Lounge is also becoming an ideal location for graduate students to hold events. Students may reserve the space for committee meetings and professional development courses, and recently it was used for the fall 2009 new graduate student ice cream social.
The Johnson Graduate Lounge has been an exciting addition to the services offered at Wake Forest and is a perfect example of how the University addresses the needs of its graduate students.