This article is more than 5 years old.
Earth Day was observed at ZSR a few days early this year, with the second annual "Celebrating Nature" program that was held on Thursday, April 16. Three speakers gave their perspectives on the importance of recycling in terms of conservation strategies, preservation techniques, and the connections on a local and broader canvas.It was also scheduled to coincide with the Earth Day Fair to be held for the first time on Wake's campus the following Saturday the 18th.
Peter Romanov started the program as a substitute for Becky Bowers, who had been scheduled to participate.He gave a brief tour of the Treehugger website, a source of environmental news as well as tips, forums, and quizzes. Peter demonstrated three of these quizzes to the audience:
What's the Footprint of Your Food?
Craig Fansler followed with an example of recycling some of the materials that are discarded from the library. By salvaging endpapers, pictures and text from books that have been withdrawn, he created a series of shadowboxes (seen below), flip books, and magnets.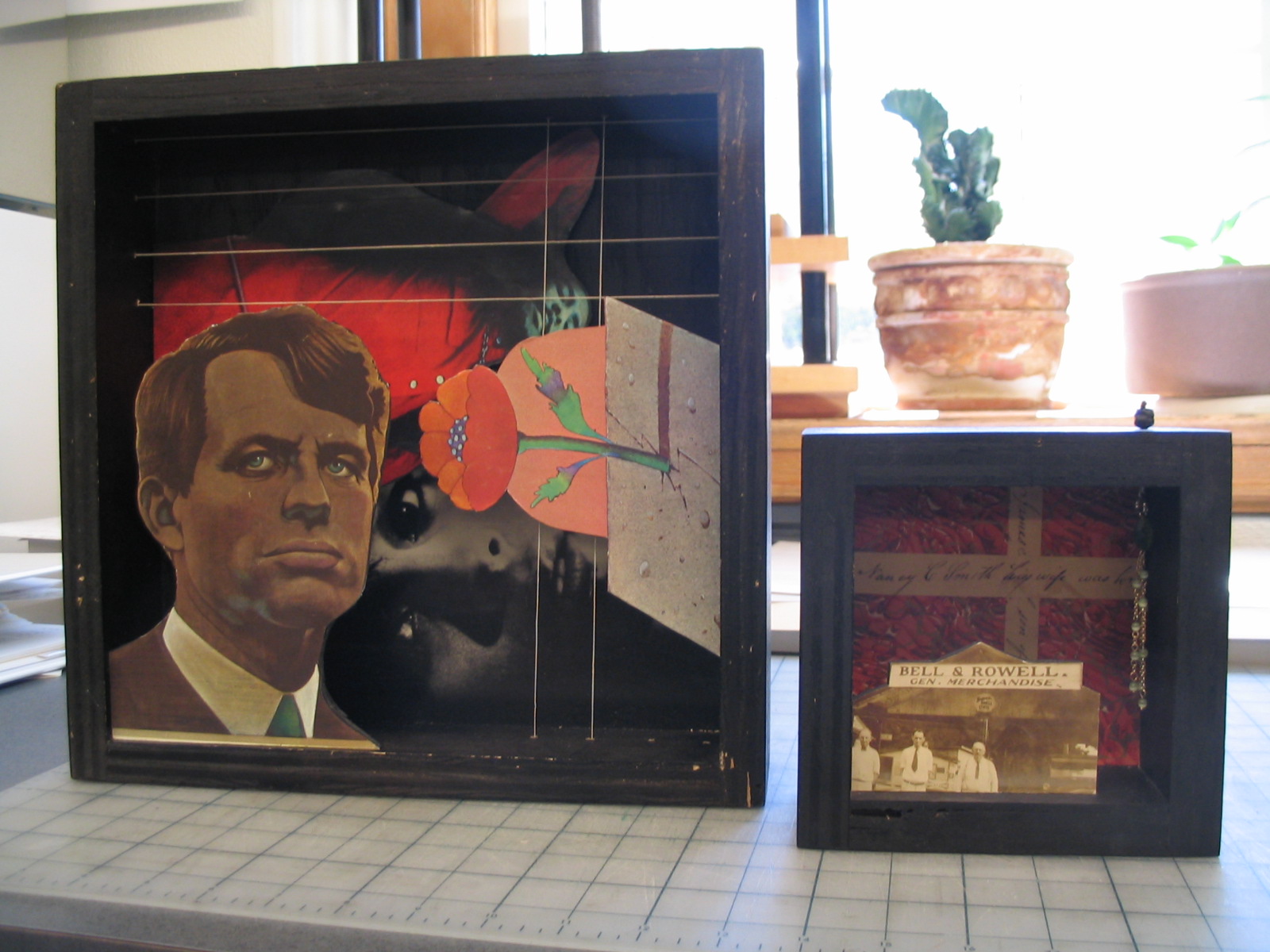 Dr. Robert Browne of the Biology Department, who spoke at the first "Celebrating Nature" event last year, closed the program with several thoughts about the efforts to encourage sustainability at Wake Forest. Different units around campus have been recycling materials as much as possible, from lawn waste to construction materials. Recycling of paper, glass and metal has been gaining ground, but the problems of cross-contamination have led to the disposal of some recyclables as garbage. In the case of garbage, Dr. Browne commented about attempts by Winston-Salem to keep the landfill as safe as possible by finding ways to prevent the buildup of volatile methane gas, either by capturing and recycling it or by "scrubbing" many of the harmful contaminants by a complex filtration system.
Dr. Browne also shared two little known facts:
A serious methane explosion took place in Winston-Salem on the morning of September 27, 1969 at the old city dump located on Silas Creek Parkway behind the National Guard Armory.Gas that seeped into the armory was ignited by a person lighting a cigarette.Three people were killed in the accident and twenty-five more were injured.
Some of the marble from the staircases that led to the original main entrance to the library from the fourth floor is still on campus.Several benches were made from that marble and placed along the Reynolda Village Path.If you look closely, the masonry is still visible!
In all, twenty-three people attended this year's program. Who knows what next year may bring?