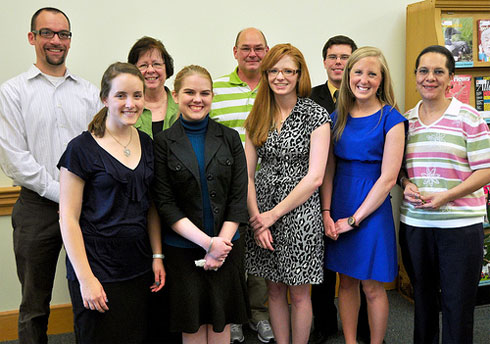 On April 26, ZSR held its second annual Senior Showcase, a program honoring exemplary senior research theses and projects completed by Wake Forest University undergraduates. Five outstanding students presented their research in the Allen Mandelbaum Reading Room to a large audience of students, faculty, staff and parents.
The 2011 honorees are:
Ms. Beth Ann Williams, History, "Faith: Education Reform in Post-Independence Kenya, 1963-1970.?
Ms. Carey Carpenter, Romance Languages, "En búsqueda de justicia en la novela sicaresca." (Seeking Justice in the Sicaresque Novel.)
Ms. Anna Walker, Music, "Three Twenty-First-Century Perspectives of Music for Christian Worship."
Mr. David Tokarz, Communication, "Accessing a Public: Enlightenment Rhetoric in First-wave Feminism."
Ms. Allison Faig, Chemistry, "Nitrite Formation Through Reduction of Nitro-containing Antibiotics."
Following the students' presentations, honorees and attendees enjoyed a reception sponsored by the Undergraduate Research and Creative Activities Center.
The Senior Showcase began in 2010 upon the suggestion of a Wake Forest senior who desired a forum for his fellow classmates to share research from their senior theses and projects with the campus community. Faculty advisors submit nominations, and a jury of library faculty selects honorees based upon both the strength of the nominations and a review of the students' works. Up to five students may be selected, one from each division of Wake Forest College.