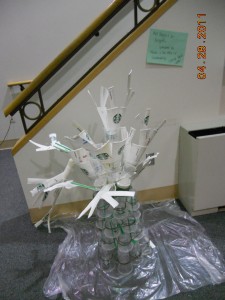 Across from the circulation desk is a student art installation , the brain child of a grad student from Divinity who belongs to a student group called Mosaic, and an undergrad who is an art student and an intern with Sustainability. In the spirit of collaboration, Shannon Axtell and De'Noia Woods got together and brought me a seed of an idea a few weeks ago to try to make students, (who drink an awful lot of coffee this time of the year) aware of exactly how many disposable coffee cups are thrown away on this campus in a week. We got some data from Starbucks and discovered that a phenomenal 3,500 coffee cups will be thrown out this week from our Starbucks alone.
Shannon, through her Mosaic student group, funded coffee mugs and the Divinity students decorated some of them with ceramic paint. She and De'Noia designed this "tree, made from coffee cups that have been reclaimed from the trash in ZSR this week, rinsed out, dried and sprayed with Lysol. Shannon, De'Noia and Josh Dewitt worked together to get this completed the night before exams began this semester. This is an art project with a mission as, in addition to being a learning tool, it will also help to promote sustainability. As students, faculty and staff sign the sustainability pledge (available at the circ desk) they will be able to get a coffee mug that they can then use for coffee from here on out, reducing the number of disposable cups sent to the landfill!
We are also filming the creation of the installation so we can have the video available to see its construction. Happy Exam Week! Drink (sustainable) coffee! Get good grades!