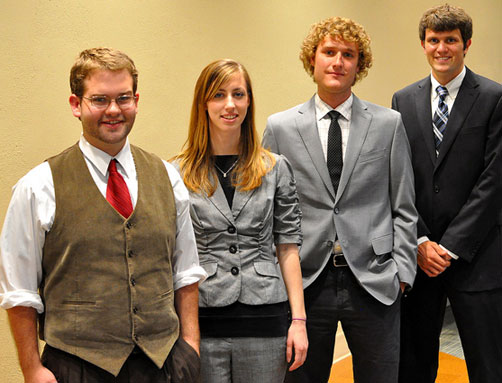 In April, ZSR hosted the third annual Senior Showcase, a program honoring exemplary senior research theses and projects completed by Wake Forest University undergraduates. Four outstanding students presented their research in the ZSR Auditorium to a large audience of students, faculty, staff and family members.
The Senior Showcase began in 2010 upon the suggestion of a student who desired a forum for classmates to share their research with the campus community. Faculty advisors submit nominations, and a jury of library faculty selects honorees based upon both the strength of the nominations and a review of the students' works. Up to five students may be selected, one from each division of Wake Forest College.
This year, the four honorees' projects reflected not only a broad range of disciplines, but also diverse research methods and skills, from textual analysis to theatrical interpretation to ethnographic study to human subjects research.
The 2012 Senior Showcase honorees were:
Erin Cassidy, Religion, for "John Calvin on Christian Responsibility for the Common Good," nominated by Steven Boyd;
Perry Ransbottom, Theatre, for scenic design for Emilie: La Marquise du Chatelet Defends Her Life Tonight, nominated by Rob Eastman-Mullins;
Dain Finke, Anthropology, for "Understanding Caste and Self: A Dalit Caste's Navigation of Caste Boundaries and Identify Formation in Nepal," nominated by Stephen Folmar; and,
Tim Brady, Health and Exercise Science, for "The Effect of Breathing Frequency on Baroreceptor Sensitivity," nominated by Patricia Nixon.
Following the presentations and a lively Q-and-A session, honorees and attendees enjoyed a reception sponsored by the Undergraduate Research and Creative Activities Center.