During the three and a half hour morning session we discussed strategic priorities and directions and identified how we might address the challenges we faced (including such hot topics as the MUVZ project, preparing for future building renovations, demonstrating value to our constituencies, and student assistant management and evaluation). After our morning meeting, filled with constructive ideas, note taking, and of course, laughs, we adjourned to the Old Salem Tavern, which is right around the corner. (Try the Syllabub topped with strawberries for dessert. Delicious!)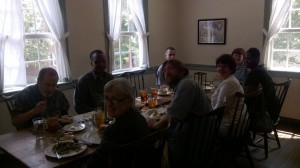 After our lunch, we walked over to Salem College to meet up with Anna Milholland, newly ensconced Public Services Librarian at the Gramley Library, who gave us a tour of the library. We saw the collection, their study rooms, the combined services desk. The library is tiny by comparison to ours, but it seems to fit their needs nicely. Anna graciously snapped this photo of us all after the tour.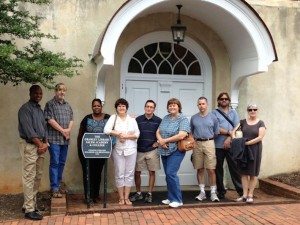 We finished the day by walking to "God's Acre" the Moravian Cemetery at Old Salem on a quest to see where RJ Reynolds and Z. Smith Reynolds were buried. While it was a hot and humid afternoon, and we didn't quite know where we were going, we had a vague idea and started across the cemetery grounds. Armed with a flickr photo that Susan Smith provided, and the memory of Ellen Makaravage who'd been there 20 or so years before, we found the site after one false start, (we discovered the "wrong" Reynolds brother's grave first. )
It was an enriching and entertaining day. There is great value of spending a day apart from your regular job, as it ironically brings work life into better focus. It allows us to see more clearly how all of the pieces of our operation interconnect and gives us the ability to streamline our operations, think outside of our regular boxes and work more closely together the rest of the year.