It is my honor to introduce you to one of the most amazing tools that I've seen in a long time! After several months of research and hard work, the ZSR Plagiarism Tutorial is up and running! Productions of this quality do not happen overnight, and this is no exception.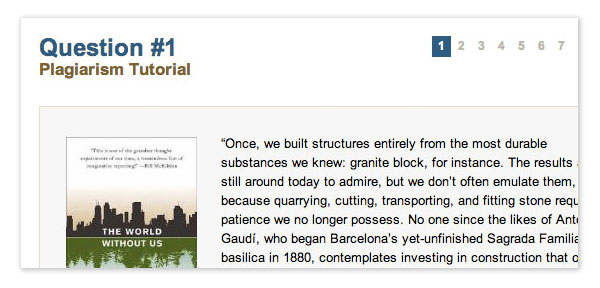 When we began the LIB100 Template revision last summer, we knew that we needed to include a significant unit on plagiarism. We looked at several tools, but Laura Aull in the English Department (who specializes in plagiarism issues) directed us to Cornell University's Plagiarism Tutorial and informed us that studies showed that students learned best from their tool. While we loved the content, the tutorial was last updated in 2005 and it was tailored to the Cornell community.
It was during Kyle Denlinger's first week of work that I showed him this huge project, and to my surprise and delight, he took it and ran with it!! Kyle received permission from Cornell to update the tutorial and then proceeded to find all new sources and create all new examples (a very difficult task in itself). He then composed the most clever narrative ever written for any library tutorial–I'll be doing mental celebratory roundhouse kicks for years to come (try out the tutorial to find out just how awesome you really are!).
Kyle began working with Kevin Gilbertson early on in this project, and the results are positively stunning! Kevin has created a beautiful, highly interactive tool that is student friendly and is simply a pleasure to navigate. Kevin is the Steven Spielberg of the internet, we are so fortunate to have him at ZSR!
This entire process has been a delight to observe. Putting Kyle and Kevin together on a project is like creating fireworks–simply incredible! Thanks to both Kevin and Kyle for going above and beyond the call of duty on this.
Here is the link: http://zsr.wfu.edu/tutorials/plagiarism/ – I look forward to using this in my classes starting tomorrow!