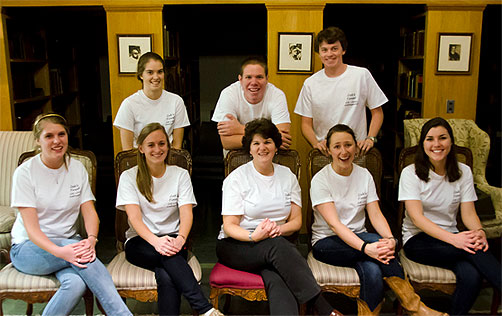 In the Fall, 2011 semester, the Library Ambassadors began as a class project by a student who was interested in increasing student involvement in ZSR programs, providing a ready made "focus group" of interested individuals who care deeply about the library and giving students a streamlined method to have their opinions about the library heard. While the original Library Ambassador, Katherine Feeney, has graduated now, the idea she started has taken root and grown into this year's Library Ambassador team.
This past fall, the Ambassadors assisted the library staff volunteers with "Wake the Library," helping the entire event go smoothly. They also brought fresh new components to our program, for example, suggesting that we hand out candy as a pick me up to students studying in the library during finals. Together, they generated other ideas that will be rolled out in coming months. We anticipate great benefits will come from our partnership and look forward to working with them so we can make ZSR an even more welcoming destination for students looking for a place to study, meet, collaborate, and learn.
Need more info? Contact Mary Beth Lock or reach out to one of the Ambassadors!