It's almost time for the next phase of the ZSR Library Atrium renovation. You've seen the new windows in the Atrium. Next up is new flooring that will be installed during the semester break! If you follow ZSR activities, you may have read about this project in an early September post. On the day following the last exams (Sunday, December 15), the project will begin with a planned completion date of January 10, right before students return for spring semester. In addition to new flooring, the number of electrical outlets in the atrium floor will be increased to 80!
The floor plan below shows the areas of the main level (Level 2) that will be impacted by the project. All of the existing carpet and tile will be removed. The darker color shows the areas where resilient flooring will be installed. In the atrium cork flooring will be installed, a choice made because of the numerous benefits:
Cork's cellular structure makes it soft to walk on.
Cork has insulating properties and remains warm in winter.
Carpet accumulates dust, hair and dander which is hard for those with allergies. Cork is naturally hypoallergenic.
Cork is easy to maintain and longer lasting than carpet.
Cork absorbs sound.
Cork is soft, yet is naturally resilient to furniture dents and heel imprints.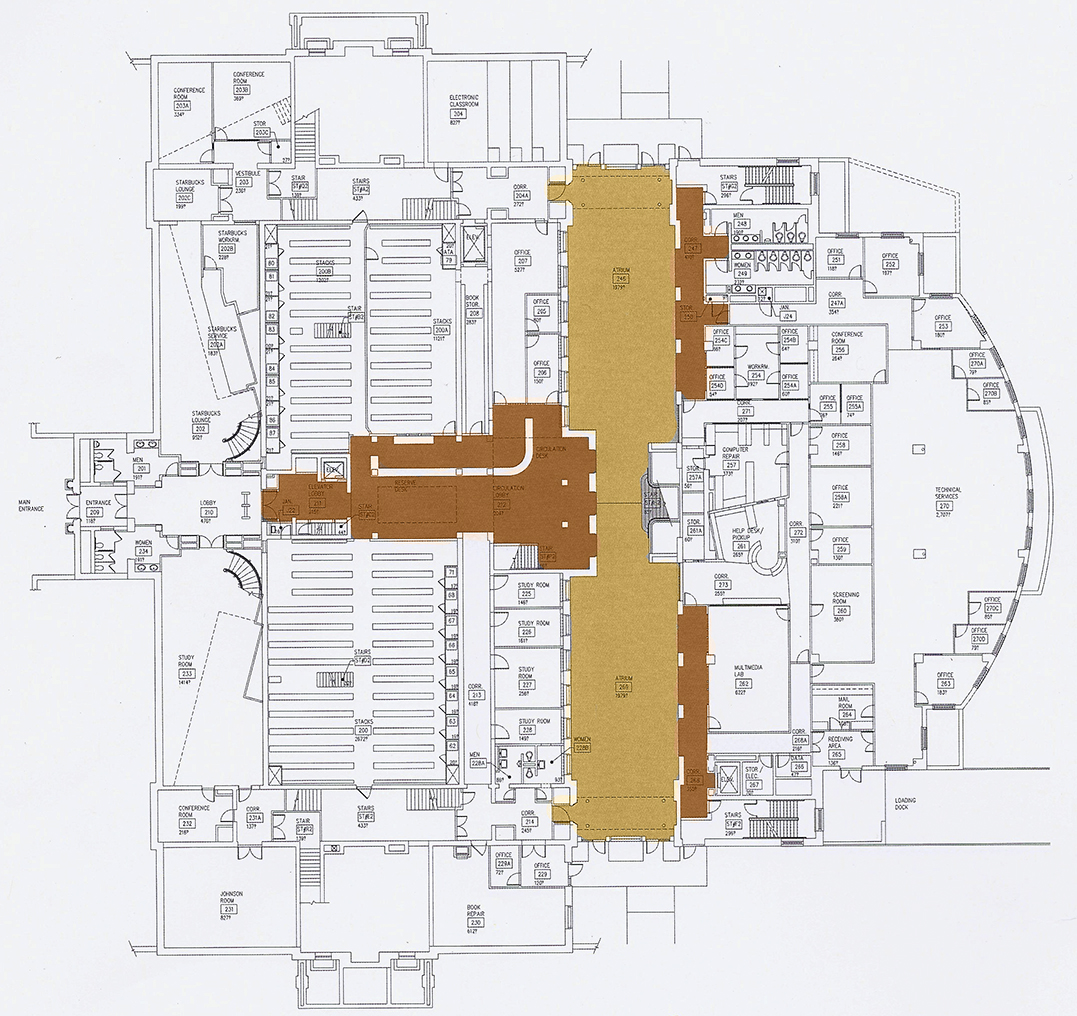 For our users who will still be on campus and will be visiting ZSR Library during the break, here is information on what you can expect during the construction.
The Library will be open the hours posted on the calendar.
Signs will be posted to direct users around the construction so that they can get to the Wilson Wing and other public service areas in both wings.
General schedule for Construction activities:

December 16-20: Demolition of old flooring, trenching concrete for additional electrical outlets, and floor preparation. We expect noise and dust levels to be increased during this part of the project.
December 21 through January 1: ZSR Library closed.
January 2-3: Cork flooring installation.
January 4-5: ZSR Library closed.
January 6-9: Cork floor seal cures, no traffic on floors.
January 10: Furniture is moved back into the atrium.