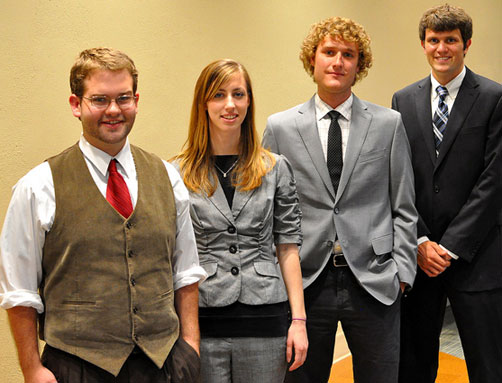 On April 23, ZSR will host the fourth annual Senior Showcase to recognize outstanding research and artistic theses or projects completed by Wake Forest undergraduates. Since its inception in 2010, the showcase has featured the research of 12 former students, in ten academic fields, from history to music to communication to chemistry. New this year, each student winner will receive a $1,000 prize as an additional recognition of achievement.
The showcase gives students the opportunity to share their research or projects before the Wake Forest community at a public event held in the library. A committee of library faculty will select up to five students, one per College division, from a pool of nominees recommended by Wake Forest faculty. Projects in progress or completed during the 2012-2013 academic year are eligible for consideration.
The review committee will evaluate submissions using the following criteria, revised for this year:
Research

Clear statement of purpose
Evidence of thorough research
Credible sources
Development of the idea

Presentation

Written

Well organized
Well written
Sound reasoning

Artistic

Skill/aptitude
Interpretation

Impact

Originality
Creativity
Importance to the field
Look for additional details and a formal call for nominations in February. Specific inquiries may be directed to Molly Keener at x5829. Plan now to nominate your top senior students' theses and projects!