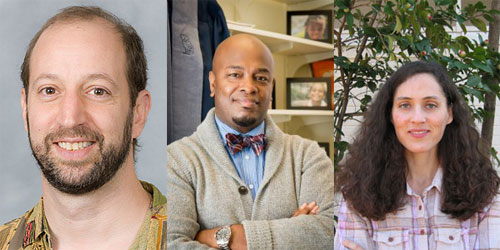 In keeping with a tradition that began in 2010, the spring semester's first lecture will feature the student winner of the previous year's WFU/WSSU Martin Luther King, Jr. Building the Dream Award. Senior Bentrice Jusu, the 2012 recipient, will speak on her personal experiences on Monday, January 28, at 5:00 p.m.
During the months of February and March, three faculty authors will discuss their recently published books.
Andrew Smiler, Visiting Assistant Professor in Psychology, will speak about Challenging Casanova: Beyond the Stereotype of the Promiscuous Young Male. (Tuesday, February 5, at 3 p.m.)
Derek Hicks, Henry Luce Diversity Fellow in the School of Divinity, will discuss Reclaiming Spirit in the Black Faith Tradition. (Tuesday, February 19, at 3 p.m.)
Michelle Balaev, Visiting Assistant Professor in English, will discuss The Nature of Trauma in American Novels. (Tuesday, March 26, at 4 p.m.)
In recognition of Earth Day, James Byrd, Deacon OneCard manager, will speak on Monday, April 22, at 3 p.m. about his experiences in restoring a New Orleans library after Hurricane Katrina.
All lectures will be held in the ZSR Library Auditorium. Mark your calendars and join us! For more information, visit the Library Lecture Series website.