This article has been reproduced in a new format and may be missing content or contain faulty links. Contact zsrweb@wfu.edu to report an issue.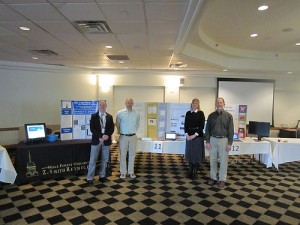 On Thursday, Hu, Kevin, Craig, and Rebecca ventured to Benson to represent ZSR in the campus-wide TechXploration, an event that "showcases faculty use of technology andbrings together faculty and staff who want to share their experiences with current technology efforts."
Hu was the acting ambassador for ZSRx and fielded countless questions and received quite a bit of interest from attendees.
Craig, Kevin, and Rebecca's poster"The Missing Link: Connecting Past, Present & Future Through Web Archiving" highlighted ZSR's efforts to create a comprehensive archive of WFU's web presence using ArchiveIt. Attendees were particularly interested in this topic and how it adds to the record of the University.
Kevin and Rebecca's poster"Unforgettable: Enhancing Digital Collections, Creating Digital Connections" highlighted the redesign of our digital collections space for ZSR's Special Collections and Archives.
Wake Forest's innovative use of technology was well represented with over 25 presenters from across campus. It was a wonderful opportunity to share experiences, make cross campus connections, and see the innovative and impressive uses of technology at Wake Forest.