On Wednesday, March 6, Derrik Hiatt, Anna Milholland, Ellen Makaravage and I heeded the call of the open house (and the open road), and travelled to Raleigh, NC to see the newly opened James B. Hunt Library at North Carolina State University. The library is an impressive one with many features befitting a library of the future.
Upon first coming into the library, it is hard to overlook The Bookbot: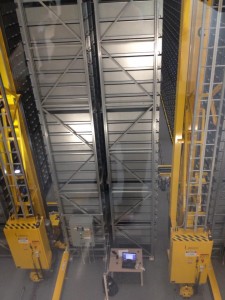 The shelving is 50 feet tall, and contains more than 18,000 bins. It will eventually hold 2 million items, and is currently about 75% full. This view is behind glass, so we're looking down into it. It is kept at a balmy 68°F, and less than 45% humidity. It retrieves items within minutes of a request.
After entering through the main gates of the library, you find yourself in the Rain Garden Reading Lounge.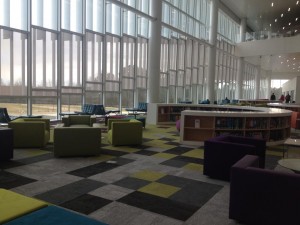 The circular shelves contain some reference items, faculty publications, classics, and a small science fiction collection. In this area also you'll find the ASK US desk, which is a reference, technology help, circulation, hold shelf, roving help desk all in one. (And staffed by one person!)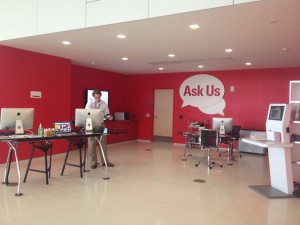 We all were quite astounded by the number of (fully 100), and amenities available in, the Study Rooms. White board walls, glass fronted wall, smartboard connections in the table…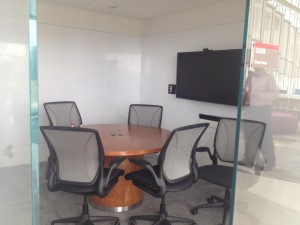 Lockers had plugs for powering up laptops and cell phones, and were programmable by the user to create his or her own locker combination.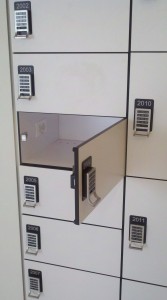 This quiet study space was vast and surrounded by the circulating collection. Note the study rooms along the far wall at the top.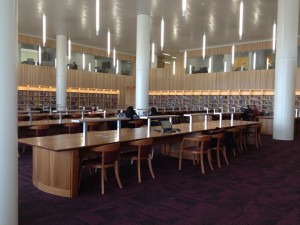 The bright yellow staircases throughout helped people navigate because staircases, unlike in most buildings, were not stacked on top of each other. Color on the walls was used to differentiate areas that contained staircases, lockers, elevators, etc, so a very big and imposing space could be figured out with relative ease.
The coolest features of the library included a Teaching & Visualization Lab with immersive visualization, provided by 10 ceiling-mounted projectors (can be either 2-D or 3-D) and16 ceiling-mounted 3-D speakers for "sonification". The sound could be produced in the room so you'd sense it coming from beneath your feet. The Creativity Studio was similar to Visualization Lab (ceiling-mounted projectors & speakers), but with reconfigurable walls for potential gallery setup and theater lighting. They are currently working on crime-scene visualization project. Investigators at a crime scene can scan the area with a Kinect, then people in the Creativity Studio will be able to interact virtually, in real-time (like a 21st-century holodeck). They also had three 3D printers in the library, which utilizes CAD drawings and "prints" them using spooled plastic, (think fishing line) and creates your object in 3D. (We wanted to take a sample with us, but unfortunately you needed to be a NCSU student to get one.)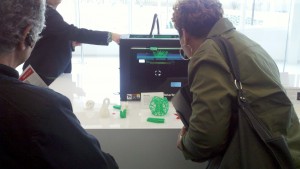 There was also an amazing Gaming Lab where students could develop games, or just develop their skills at gaming.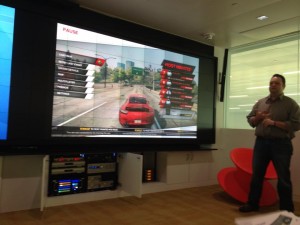 What I found most wonderful about the whole experience was that in this incredibly technological facility, they didn't forget about the importance of the students. They have given the students many options for finding their own preferred study space, and the spaces are comfortable and have plenty of light! This space is called the Skyline Reading Room. It was empty the day we saw it, but we were there during the Spring Break at NCSU. Usually, it is full of studying students.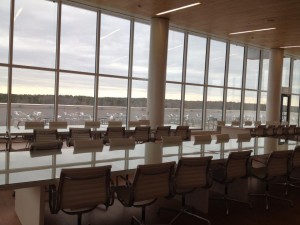 While we lucky few got a chance to see the library in person last week, we will be arranging another field trip in the summer for others to visit. It is an amazing place that manages to combine the edginess of the cutting edge, with the spaciousness that invites students to study. Even more photos are available! Enjoy!