Travis Manning was named WFU Employee of the Year on Tuesday, November 11, 2013, at the University's Staff Rewards & Recognition Luncheon held in the Snead Club Room at Bridger Field House.
He won in the non-exempt category. The criteria for winning the award included a demonstrated commitment to Integrity, Accountability, Inclusion, Dedication to Excellence, and Pro Humanitate. His nomination read in part: "Travis takes his responsibilities seriously to create an inclusive and supportive environment that helps all of the students he supervises feel a part of the team. He helps them transition to life as a college student and guides them through the uncertainty of starting a new job in a new place. He is patient and kind to everyone, and creates a team of students who support and care for each other, always leading by example. Travis has been solely accountable for an innovative service and has implemented it to great acclaim among the faculty. He is always among the first to volunteer when there is a call for assistance in the library. Travis has a great ability to build a bridge of understanding between people. He provides superlative, exceptional service and serves as an example to the students who work with him allowing his good attitude to have impacts beyond his own actions."
The Employee of the Year Award in the exempt category was awarded to Shayla Herndon-Edwards, the Diversity Education Program Manager, and also a friend of the library.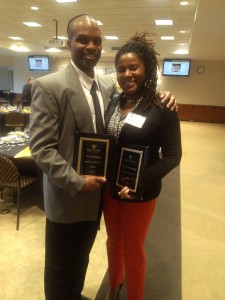 A heartfelt congratulations to both Travis and Shayla! Thanks from ZSR and the wider WFU community for your continued good work!