This has been the Year of Outreach at ZSR. We have tried a number of different modes of outreach, from ZSRx to Dean's List Gala to the alternative break Staycation. The latest two outreach activities were very ambitious in scope: a campus-wide symposium on the future of higher education, dubbed The Big Disruption: The Coming Transformation of Higher Education, and an alumni weekend called Connections and Conversations. I will explain each.
#bigdisrupt was the hashtag created for the event that started with an idea from Bob Hebert, as chair of the Staff Development Committee. He was looking for a program to offer in collaboration with the Librarians' Assembly Mentoring Committee. When they consulted with me on the idea for a program on the future of higher education, I advised that it become a larger, university-wide event with high level speakers. We eventually settled on a panel of three speakers: Provost Rogan Kersh, Vice President for OPCD Andy Chan, and Mike Riley, a Wake Forest alum who is currently the editor of The Chronicle of Higher Education. I was happy to serve as moderator of the panel. We drew in assistance from the Library Lecture Series experts, as well as Barry and Kevin and Lauren Suffaletto. As usual, it takes the whole ZSR village to put on a show!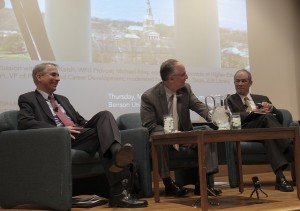 Nearly 200 people attended the event and by all accounts, it was a great success! I framed the question with preliminary remarks, mentioning how the changes we have seen in libraries foreshadow the changes coming to higher education. Then I asked a series of questions on topics such as MOOCs, value of a liberal arts degree, tenure, unsustainable costs, changing demographics, admissions, and the failure of the model. Panelists knew the general topics in advance, but did not know what their individual questions would be. Audience members asked hard questions during the Q&A and a lively twitter feed ran throughout.
Barry recorded the entire event, which you can find here. Charles took these photographs (thank you, Charles).
Connections and Conversations started with a suggestion from an alumnus and member of the Board of Visitors. He said that not all Wake Forest alums come back for Homecoming and other events centered around sports. He wondered if the University could offer a weekend back on campus around intellectual topics, where they could engage with faculty on ideas, just like the old days. That sounded so worthwhile that I offered to work with the Alumni Office to make it happen. We wanted it to take place in ZSR so that alums who had not seen the library in a while could witness the changes that had happened over the years. We chose the theme of "well-being" because of its central importance to the university. I recruited six faculty and staff speakers around the 8 dimensions of well-being. Provost Kersh, Vice President for Campus Life Penny Rue, and Student Government President Jacqueline Sutherland were the keynote speakers. We added tours of the new buildings on campus and Reynolda House for variety. Provost Emeritus Edwin Wilson was a crowd favorite at the opening reception on Friday night at Graylyn.
Feedback has been been extremely positive from the attendees. They loved being on campus and interacting with faculty and students again. They said we should do it every year! I offer my deepest gratitude to Pat Boone from Alumni Services, Lauren S, Barry and Susan for spending their Saturday on this event. For more pictures, you may view Susan's Flickr set here (thank you, Susan).