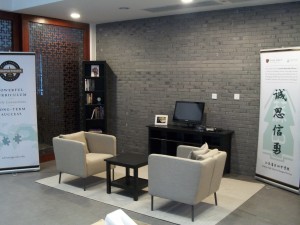 Wake Forest Advantage helps international students and admissions officers find the best fit for students to succeed at U.S. colleges and universities. In 2013, Wake Forest Advantage began its initial program with Suzhou High School in Suzhou, China. Suzhou High School's partnership with Wake Forest is notable as being the first high school to include the Wake Forest Advantage program in their school's curriculum. As a token of gratitude, Wake Forest pledged to present Suzhou High School a gift as a symbol of their partnership. The presentation was scheduled for late November 2014 for a gift to be located in the school's library.
In early August, ZSR Library was approached by Wake Forest Advantage to collaborate in the creation of an interactive kiosk and banner representing the connection between the Suzhou High School Library and ZSR Library. The interactive kiosk highlights ZSR Library people and services, and includes numerous resources to help international students at Suzhou High School understand American College life through the lens of Wake Forest University. Geoff Groberg, one of ZSR's Web developers, programed all of the content on the touchscreen kiosk. The kiosk includes these materials contributed by the Library:
Research and Inquiry Documents created by ZSR Library Ambassador (Ex. Quick Guides on Presenting in College, APA Thesis Statements, Honor Code and Ethics Statements at American universities, etc…)
"Life of a college student" videos created by Library Ambassadors (w/ attached contact information for direct communication from Suzhou High School students)
Pictures of ZSR Library taken by Ken Bennett
Informational videos of the Z. Smith Reynolds Library's services (ex. The writing center, tech services, and the library reference desk)
Biographical profiles (Lynn Sutton Vice Provost/ Dean of the Library, Sarah Jeong Research & Instruction Librarian, Le'Ron Byrd Z. Smith Reynolds Library Presidential Fellow, Geoff Groberg ZSR Web Developer)
A brief message from Amanda Foster, Instruction Librarian, to international students at Suzhou HS (Amanda provided her background biography and advice to students interested in studying in America).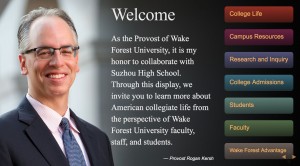 Z. Smith Reynolds library's largest investment, however, was committing their presidential fellow, Le'Ron Byrd '14, to assist Wake Forest Advantage with this large project. Le'Ron's work included creating and organizing content for the kiosk, designing the ZSR Library banner for Suzhou High School's library, mapping out the design of the physical installation at Suzhou High School, and, most exciting, traveling to Suzhou, China for the month of November. On November 22nd, Le'Ron stood alongside Provost Rogan Kersh, Associate Provost Kline Harrison, and the Wake Forest Advantage team as the Z. Smith Reynolds Library representative in presenting this significant gift to Suzhou High School.
Le'Ron Byrd is set to give a presentation on his experience to his colleagues in January at the library staff meeting.