The Wake Forest University contribution includes digitized copies of student newspapers, photographs, letters, diaries and oral histories dating from the 1800s to the present day. Currently over 7,300 items from ZSR appear in the DPLA.
Participating in the DPLA broadens the visibility and use of digital special collections. "Special Collections & Archives at ZSR contains rare and unique books and collections, and, similarly to other archives, continually balances access by researchers with long-term preservation. Digitizing these materials provides myriad ways for these materials to be shared more broadly, and the DPLA expands that access to a worldwide audience," says Tanya Zanish-Belcher, Director of Special Collections & Archives at ZSR.
On the DPLA site, users can search and browse ZSR materials in new and interesting ways, including by timeline and map.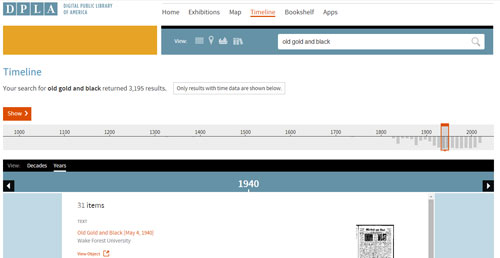 The DPLA also provides an application programming interface (API), so software developers, digital humanists and others can build novel Web and mobile applications.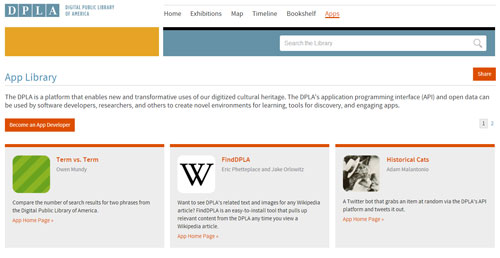 ZSR joined the DPLA in November through a partnership with the North Carolina Digital Heritage Center, which serves as a statewide hub. Over 120,000 items from North Carolina institutions are currently available in the DPLA, including items from the State Library of North Carolina, State Archives of North Carolina, and the libraries at UNC-Chapel Hill, ECU, and UNC-Greensboro, in addition to the items contributed by the North Carolina Digital Heritage Center.
ZSR will continue to contribute digital special collections to the DPLA throughout the coming years.