After each Humans v Zombies event, I like to write a Gaz post on the event just to keep a record of the event, but this time I'm writing to talk about what looks like a tipping point in the event. The Spring 2014 HvZ had 120 participants, this year we had 158 (and last Fall we broke our record, surpassing 200 participants at an event!) While those numbers are great, what caught my attention was the participation by students from UNC, (they brought 40 students) UNC Central, (they brought 12 students) UNC-G, and NC State, each with just a few participants. While UNC has joined us in the past for the Spring event, we have never had this level of participation from this many schools! We consumed 20 pizzas, said goodbyes to two senior student leaders of the event, Brandon West from WFU and Tanner Fadero from UNC, and found volunteers to lead next year's events. We also had door prizes (donated Nerf blasters) and a visit from the event's creator, WFU alumnus John Walsh!
One unexpected cool addition to the event was a student with a Go Pro camera mounted on them to capture footage of the event! I hope ZSR can purchase some Go Pro cameras for student checkout in the future!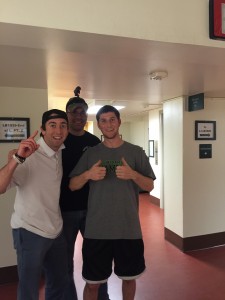 I want to thank the faithful volunteers who help with this event every semester! Susan Smith, Mary Beth Lock, Tim Mitchell, David Link and Chris Burris! And a shout out to Le'Ron Byrd who has not missed one of these events since he became the ZSR fellow! We now offer HvZ to our students in the Fall, Spring and Summer, and we host a joint event each summer for the LENS and Ben Franklin Fellows and another joint event for SPARC and the participants in the International Student Orientation. These hard working volunteers, along with the Student Activities Funds we apply for each year, make it possible for us to host these events for large numbers of students with very few staff and very little money!
Here is a link to Susan Smith's amazing photos of the event!