This article is more than 5 years old.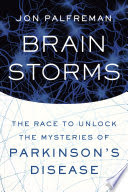 Neuroscience Professor Wayne Silver and Dance Professor Christina Soriano brought together students, other neuroscience faculty, and the PD Forward support group in Winston-Salem for a meaningful book club discussion this semester. It was an honor and a humbling experience to gather together with students and people who live with Parkinson's Disease as their book discussion facilitator.
We met on a Sunday evening in February, March, and April in Winston Hall. Thanks to Professor Soriano and Professor Silver, our April book club meeting was Q&A via Skype with the author Jon Palfreman, who was recently diagnosed with Parkinson's Disease, and professional dancer Pamela Quinn, who is featured in the book. They are an inspiration to Wake Forest neuroscience students, those living with Parkinson's Disease, and faculty. Special thanks to Jeff Muday in the Biology Department for providing technical assistance.