On January 29th at 7:00 pm, a group of talented Wake Forest University students entered the Z. Smith Reynolds Library to challenge their creative abilities and participate in a writing event unlike any other.  Twelve hours and eight pots of coffee later, thirty-three works were submitted and will soon become a collection of published stories and an artifact for our University Archives collection. The inaugural Writers Camp (apostrophe purposely excluded) was a success! Thanks to months of planning by the Writers Camp committee, and thirty-three dedicated students, a book was written in a single night.
The event commenced at 3 pm with a reception in the Special Collections Reading Room.  With some help from the Demon Deacon himself, the writers made a personal connection to the artifacts which inspired their works.  Taken from throughout Wake Forest history, the variety of artifacts were sure to cultivate genres of written work from poetry to short stories, and more.  Author and professor, Jenny Puckett, provided a brief lesson on "going down the rabbit hole", the phrase she used to describe the oftentimes never ending adventure into the history of an artifact.
At 7:30 pm the students returned to the library atrium to kick-off the evening.  After a few encouraging words from Ryan Shirey, Director of the Writing Center, the writers scurried off into the depths of ZSR, from the darkest basement corner to the serene 6th floor catwalk overlooking the atrium.  A midnight pizza delivery provided a nice break for several writers, and many student writers appreciated the endless pots of coffee and late night snacks that were set up in the atrium (known as 'Writers Camp Command Central' during the event).  An incredible group of tutors from the Writing Center offered assistance and advice into the wee hours of the morning. It was amazing how much energy students had after a long week of work. The Library staff working the event found themselves with a bit less energy than the students by 5 am and after a Biscuitville breakfast and closing ceremony at 7:00 am, everyone was ready to go home and take a nap!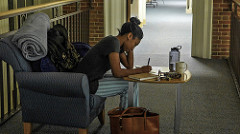 Over the coming weeks, the students' submitted works will be edited for publication, and will be cataloged and published in both ebook and print formats, with each author receiving a personal copy! The list of people to thank is too numerous for this post, but has been shared on the Writers Camp website! Photos of the event are also available online via the ZSR Flickr account!